'Safe Haven' Program May Spread
China Daily, April 25, 2013 Adjust font size:
China may expand a controversial pilot program that provides "safe havens" for abandoned children to major cities, a top Ministry of Civil Affairs official said on Tuesday.
The move is in response to media reports in March of several cases in which infants died after being abandoned in unsafe public places.
Zhan Chengfu, director of the ministry's social welfare and charity promotion department, said the government should make more of an effort to guarantee abandoned children's right to live.
"The establishment of safe havens for abandoned babies is vital to protect innocent children," he said, adding that child abandonment is inevitable despite being outlawed in China.
More pilot programs can contribute to feasible practices that can later be rolled out nationwide, he said at a symposium on safe havens for abandoned children in Shijiazhuang, capital of north China's Hebei Province, on Tuesday.
The two-day seminar attracted more than 200 participants, including orphanage directors, civil affairs officials and experts from home and abroad.
He also encouraged child welfare institutions in provincial capitals to learn from the Shijiazhuang Social Welfare Institute's practices.
Han Jinhong, director of the institute, said the newborns' haven has received 149 abandoned babies since it opened in June 2011.
The air-conditioned room, located outside the gate of the institute, has an incubator and a cradle. Once someone leaves a baby in the room, the bell rings after a delay of two minutes, after which the institute's security guard comes to get the baby. The security guard also patrols the shelter every two hours.
He added that health checks on the children left in the baby haven showed that few had a fever, external trauma or pneumonia, which are common in babies abandoned in unsafe places.
"Before we provided such facilities for abandoned children, many parents, who felt guilty about their behavior, dropped off their children in unsafe places such as parks, train stations and even in the wild in the early morning or late night so they can avoid punishment," he said.
"Therefore, these little lives were threatened by cold, starvation or animal attacks before people could find them."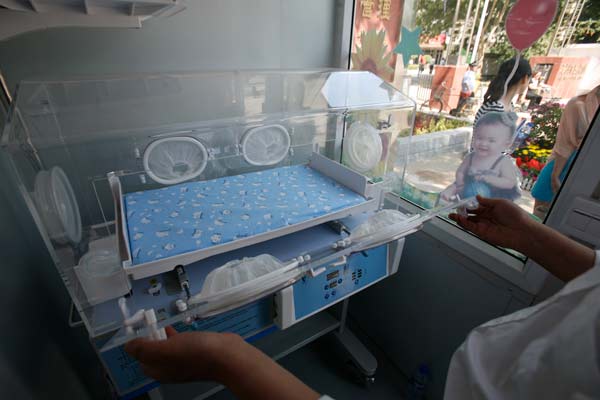 A "safe haven" station for abandoned babies in Shijiazhuang, the capital of Hebei Province. The air-conditioned room features an incubator and a cradle and provides a safe alternative to child abandonment in dangerous public areas. [China Daily]