Agriculture Cooperatives Bear Fruit in Guangdong
China Daily, April 17, 2013 Adjust font size:
Wu Zhide remembered his first visit to the municipal bureau of agriculture four years ago when his rural cooperative was just established in Zhanjiang, Guangdong Province. When the director of the cooperative knocked on the door of one of the offices, he had no idea what kind of plants he and other farmers should pick for their fields.
With nine farmers then registering to join at the very start and now 163 households taking part, Wu's small cooperative is prospering, with various different kinds of plants allocated in its more than 333 hectares.
"All that is thanks to the new support platform set up by the bureau of agriculture," he said. The support offered includes information on planting seeds and training in farming skills.
The bureau's involvement accomplished a great deal. By the end of 2012, the number of rural cooperatives in Zhanjiang had reached 1,855, with 50,400 registered farmers.
Ten years ago, the average income of a farmer was about 3,500 yuan (US$566) while now it is nearly 10,000 yuan, said Qiu Min, deputy director of Zhanjiang's agriculture bureau.
Rural cooperatives are a new development there. Guangdong didn't have its first rural cooperative until 2003, when a cooperative that grew lychee was founded in Zhanjiang.
Wu and his fellow farmers enjoy many more conveniences than they did before when they set up a rural cooperative. They now pay a lower price for pesticides and employ helpers more easily at busy times, as they have more bargaining power.
The concept was not easy to sell at first. The neighborhood villagers misunderstood Wu's way of using their land. They complained of and even accused him of "selling out" the collective land.
In a rural cooperative, "We rent the idle land from farmers who don't have the farming capacity," said Wang Zhiwei, vice-president of Guangdong Hengfu Group Sugar Industry Co Ltd.
After renting the land, a cooperative rents the land out for free at the beginning of a harvest year either to specialized households or to individual farmers who can work it. At the end of the harvest year, the land rental is deducted from the sales of agricultural products, like sugar cane.
In Wu's cooperative, the useable land has been allocated to individual farmers, 4 hectares per person.
Farming is only the first step in a cooperative. To make a profit, Wu found it necessary to experiment with agricultural industrialization by processing, freezing and storing vegetables and fruits.
Processing is actually a must-have step for large-scale farming in the subtropical province of Guangdong. Farmers would even want to sell a ton of pineapples at 50 yuan when buyers were difficult to find at times, but instead could only watch them rot in the fields, Wu said.
Wu wants money for a processing factory, but has discovered that it is hard to borrow even a small amount of money from the bank.
Other cooperatives also face the challenge of getting funds.
Xu Honghui, deputy director of Blue Sea Fishing Cooperative in Zhanjiang, has more than 150 fishermen in his cooperative. His cooperative wanted to buy freezing facilities to store fish.
After negotiating with the bank, Xu's cooperative can have the loan as a whole fishing cooperative unit, with the cooperative's fixed assets as collateral.
Using machines instead of labor is the next step for rural cooperatives. It reduces cost. For example, one-third of a sugar cane farmer's revenue would go to helpers for harvesting sugar canes by hand in the field.
But better technology is needed. Machines can have sugar cane harvested, but will leave destroyed roots in the earth, so sugar cane farmers still prefer manpower.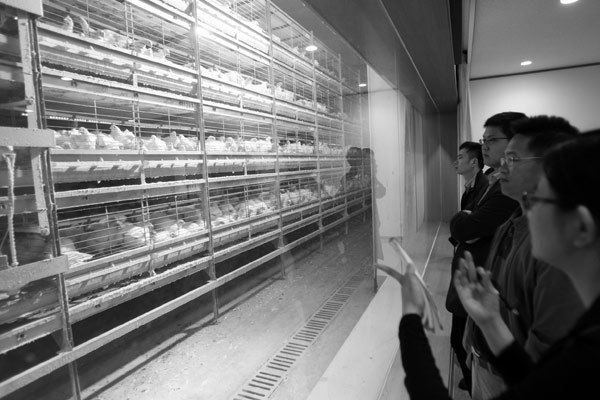 Reporters visit a chicken farm of Chia Tai Group in Zhanjiang, Guangdong Province, on April 10. The farm is an example of rural cooperatives in the city. [China Daily]