Hanergy Leads in Thin-film Solar Technology
China.org.cn, November 30, 2012

Adjust font size: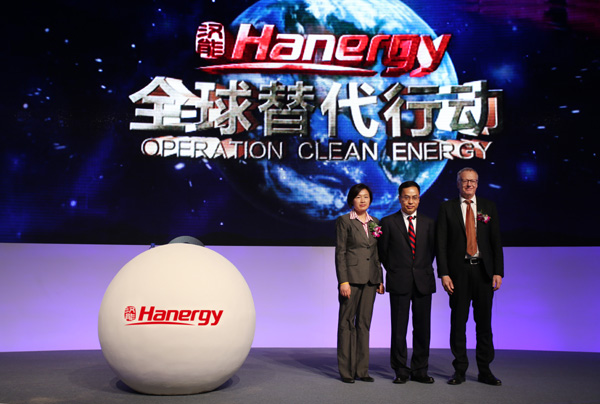 Hanergy announced on Thursday it has become the world's largest manufacturer of thin-film solar modules. [China.org.cn]
Hanergy announced on Thursday it has become the world's largest manufacturer of thin-film solar modules, with an annual capacity of up to 3 gigawatts (GW), which can generate enough electricity to meet a whole year's domestic needs for a city with a population of 10 million.
"Thin film solar photovoltaic (PV) technology is the current global development trend in the solar PV industry, and stands at the core of Hanergy's PV strategy," said Li Hejun, Hanergy's chairman and CEO.
Before entering the solar PV industry in 2009, Hanery was focused on hydroelectric and wind power, with its hydropower stations annually generating billions of cash flow for the company, China's largest privately owned renewable energy provider.
By now, Hanergy has already invested 27 billion yuan in its thin-film R&D and production bases across the country.
Li describes Hanergy as a solar power generation solution provider rather than just a thin-film solar cell manufacturer. "Hanergy's products are power stations, large or small. Thin-film solar cell manufacture is only a middleware," li said.
As a "global technology integrator," Li said the key to Hanergy's success in the solar PV industry is its leading technologies acquired both through self-innovation as well as acquisition
In June, Hanergy bought Solibro, a unit of German solar group Q-cells which produces thin-film modules using CIGS (Copperindium gallium selenide) co-evaporation technology. The efficiency of modules in serial production has now reached the world's leading level of 15.5 percent.
Hanergy will expand its business in solar power stations and BIPV (building integrated PV) onto both the foreign and domestic market as Li claimed said it has so far largely been ignored by many Chinese solar companies. "I believe China's solar PV market will restore itself soon and overtake those of the US and Europe to become the biggest one."
Up to 95 percent of solar panels produced in China are sold overseas, with the EU being the biggest buyer.
Since the United States started probes into alleged dumping and unfair subsidies in PV solar panels made with crystalline silicon from China late last year, domestic producers have faced a shrinking foreign market.
This year, the European Union followed suit, claiming Chinese companies are selling PV solar cells under their original cost price by receiving illegal government subsidies.
In response to requests filed by Chinese polysilicon manufacturers, including LDK Solar Co., Ltd. and the China Silicon Corp. in September, China's Ministry of Commerce announced on Nov. 26 the beginning of an anti-dumping and anti-subsidy investigation into imports of solar-grade polysilicon, an important component in solar cells, from the European Union.
Li said thin-film solar technology is an upgrade of traditional crystalline silicon technology and could be a solution for Chinese solar companies embattled by heavy duties from the US probes and possibly those from the EU as well.