'Smart City' Takes Shape in Xinjiang
China Daily, November 14, 2012 Adjust font size: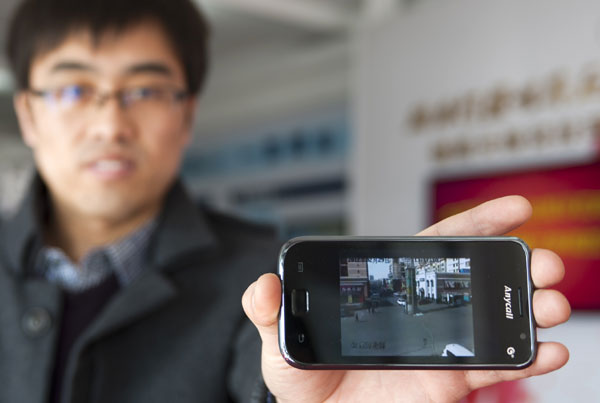 A man displays surveillance camera footage he received on his smartphone in Karamay, Xinjiang. Karamay has gone to great lengths to build a "smart city" to better serve local people. [Xinhua]
The remote oil town of Karamay in northwest China's Xinjiang Uygur Autonomous Region is adopting cutting-edge technology to become a "smart city" in order to make life easier for residents and improve local administration, its mayor said.
"Information technology is not just about technology. It should be integrated with all aspects of life in our city and make people's lives more convenient," Karamay Mayor Chen Xinfa said on the sidelines of the 18th National Congress of the Communist Party of China.
"The 'smart city' could also alert city leaders like me to what needs to be done urgently regarding city management or emergencies," said Chen, who is also a delegate to the congress.
"For Karamay, it's not the future, but what's happening now. "
In August, Karamay launched a joint program with IBM to become a "smart city". The concept, proposed by IBM, is based on technologies such as the Internet of things and cloud computing, and embraces transportation, healthcare and public security.
For example, Chen said that almost every bus station in Karamay is equipped with an electronic screen displaying information about the arrival of the next bus. Residents can even check the exact time a bus will arrive on their mobile devices.
And if an elderly person pushes the panic button in their home, the "smart city" system automatically informs emergency units, including first aid and the fire department, as well as their relatives, he said.
In addition, if a growing number of people are registered as unemployed in the city, the local social security system will alert officials, he added.
"Such smart systems can free officials from drafting documents and attending meetings, and enable them to work more efficiently and creatively," said Chen, who holds a doctoral degree in geology and is also vice-chairman of the Xinjiang Association for Science and Technology.
Karamay, with a population of about 400,000, is an important oil industry hub in the Junggar Basin of northern Xinjiang.
Chen said people are often surprised when they hear about Karamay's plan to become a "smart city", because they don't understand how a program with such cutting-edge technology could work in such a remote city.
However, Karamay has become the first wireless communications city in northwestern China, paving the way for it to become a "smart city", according to China Mobile, the nation's biggest mobile operator by user base. China Mobile has been promoting its Wireless City project since 2008.
The project, which aims to provide information and services on mobile terminals, means that Karamay is covered by a web of 2G, 3G and Wi-Fi networks.
Karamay's mobile phone penetration rate is around 170 percent, much higher than the national average of 70 percent, according to the city's branch of China Mobile.
Chen said Karamay's plan to become a "smart city" follows the international trend to make better use of technology to improve both local administration and the quality of local residents' lives.
Since IBM put forward the concept of building a "smart planet" at the end of 2008, a growing number of cities in the world have set out to become "smart cities".
Around 150 cities in China had published plans to become "smart cities" by the end of February, with a total planned investment of 1 trillion yuan (US$160.5 billion), according to Shan Zhiguang, chief researcher with the Informatization Research Department under the State Information Center.
In addition, more than 200 cities in other countries or regions, mainly in Europe and East Asia, have made a similar commitment, he said.
Shan said a "smart city" is based on, but differs from the concept of a "digital city".
He said digitalization is more focused on infrastructure construction, but being a "smart city" is more about information integration and processing.
He mentioned the exceptionally heavy rainstorm that flooded parts of Beijing and led to the deaths of 79 people on July 21.
"In such an emergency, a modern city can be very fragile," he said. "To handle such emergencies well requires the improvement of not only the city's infrastructure, but also its management."
Shan said the biggest challenge in building a "smart city" is the fragmented nature of different types of information within different organizations. Both technological development and administrative changes are required to solve this problem, he said.
For a city such as Karamay, a major obstacle on its route to becoming a "smart city" is a shortage of qualified personnel, said Chen.
He said he hopes technology can enable experts based in Beijing or Shanghai to help Karamay build and maintain its "smart city" system.