In era of speed, slow trains chug on
China Daily,February 14, 2019

Adjust font size: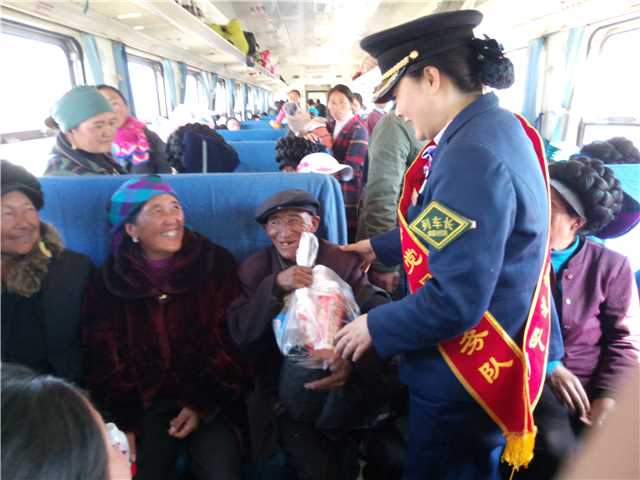 Conductor Ahxi Ahxia chats with ethnic Yi passengers aboard train No 5633 on Tuesday. HU PING/FOR CHINA DAILY
Sichuan: Delivering livestock or even babies, lifeline lifts Yi people HUANG ZHILING
Passengers taking train No 5619 for the first time are often surprised to find that many other travelers take vegetables, chickens and pigs with them.
The line, which links Panzhihua, Sichuan province, with Yuexi county in the province's Liangshan Yi autonomous prefecture, is one of the two slow trains still operating in the province, running at speeds up to 40 kilometers per hour.
The slow train service starts from Yangang Railway Station in Panzhihua and ends up at the Puxiong station in Liangshan. The whole trip takes seven hours and 33 minutes, with stops at 26 stations, 14 of which are inside Liangshan, China's largest community of ethnic Yi people.
The other slow train, No 5633, runs from the Puxiong station to Panzhihua in nine hours. Over a distance of 353 km, the train stops at 26 stations, 21 of which are in Liangshan.
Operated by the Chengdu passenger transport section of China Railway Chengdu Group, the two trains have become an essential part of local people's lives.
Surrounded by mountains, Sichuan had been largely inaccessible for more than a thousand years until China launched its reform and opening-up policy in 1978. Every Chinese person knows the line by Li Bai, a poet in the Tang Dynasty (618-907), "Traveling in Sichuan is tantamount to ascending to heaven."
Four decades of construction have brought a turn for the better in Sichuan's transportation sector. Bullet trains link some parts of the province, with connections to Beijing and Shanghai. But for mountainous Liangshan prefecture, many places lack even well-developed roads.
So the two slow trains, which have been operating for 47 years, are kept running despite the changes and the reduction in the number of slow trains nationwide, according to the railway company.
Ticket prices have been kept low. A trip from Yangang to Puxiong costs only 18.5 yuan ($2.70); from Puxiong to Panzhihua costs 25.5 yuan. The lowest price between two stations is 2 yuan, said He Dayong, an official in the company section in charge of both trains.
The overwhelming majority of passengers are Yi people, who use both trains as shuttles to go shopping in nearby towns. They take the trains with hard seats to buy vegetables, drinks and instant noodles. To celebrate the Yi New Year in November, many carried pigs, sheep, dogs, chickens and ducks with them to sell.
Under the central government's targeted poverty alleviation measures, many Yi people have received financial support to build new houses. Some carry building materials purchased in towns to their home by train-wood, PVC pipes, bricks, tiles, steel bars and anti-theft doors-said Zhang Zongqiang, a 55-year-old conductor on No 5619.
To prevent building materials from falling and hurting others, Zhang came up with the idea of putting long building materials behind seats and smaller ones under the seats.
Ahxi Ahxia, a 41-year-old Yi conductor on No 5633, who has done the job for 18 years, has seen 11 babies born aboard the train.
She recalled a Yi man hurrying to her to ask for help in January 2017. He was accompanying his 38-year-old wife to the Xide county hospital to give birth and she unexpectedly went into labor.
Ahxi asked the radio announcer to call for a doctor, and then used sheets to form a makeshift delivery room. Thirty minutes later, the baby was born.
Twenty minutes after that, the new mother began bleeding profusely. Ahxi used a handheld radio to ask railway employees at Xide Railway Station to summon an ambulance before the train arrived. The new mother was sent to hospital. Two days later, Ahxi was told that both the mother and son were out of danger.
"The slow trains have become part of local Yi people's lives," she said.