In era of speed, slow trains chug on
China Daily,February 14, 2019

Adjust font size: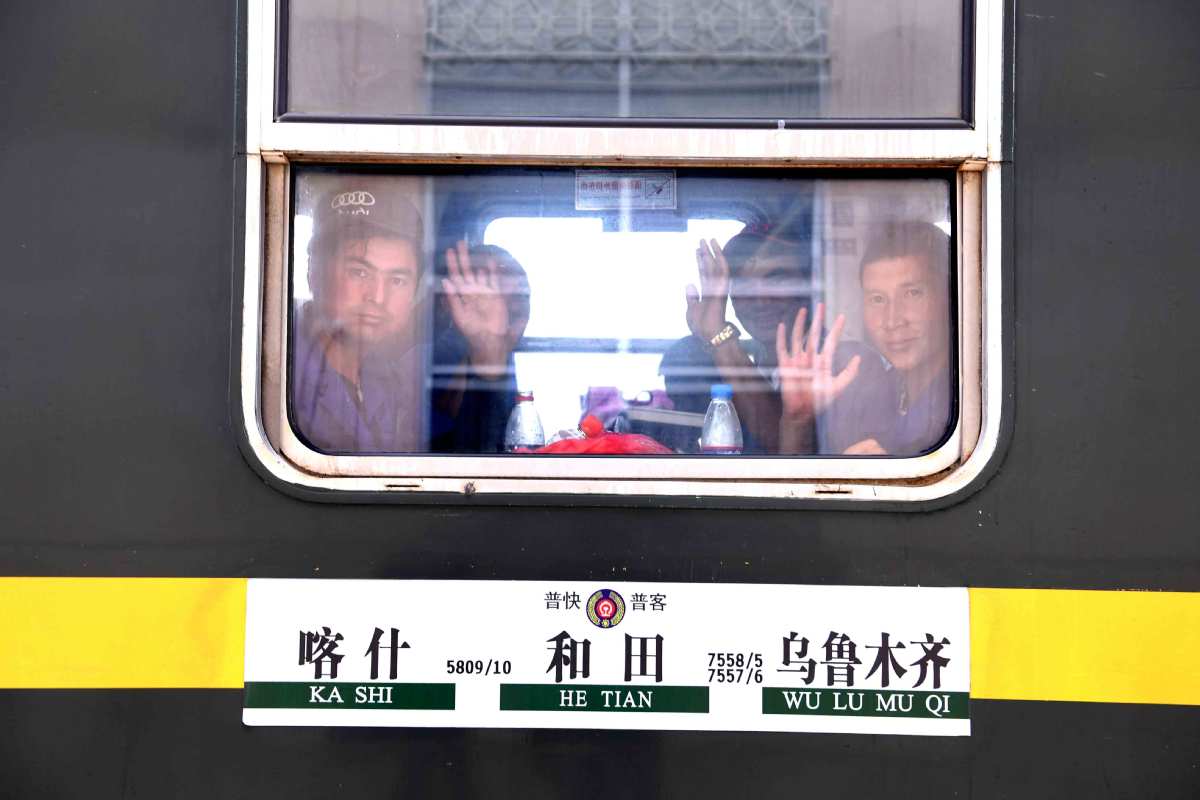 Passengers depart on a train connecting Kashgar, Xinjiang Uygur autonomous region, with other cities in the region. CHINA DAILY
Xinjiang: 'Affordable, essential tool' boosts incomes in China's hinterland
On the southwestern edge of the vast Taklimakan Desert, a green train in the Xinjiang Uygur autonomous region is offering local residents an alternative choice to connect with nearby cities and towns at a much cheaper fare. It serves as an important vehicle to help boost their incomes.
Train No 7558 takes 10 carriages with hundreds of passengers every day from China's westernmost Kashgar prefecture to southern Xinjiang's hinterland-Hotan prefecture-linking a total of nine cities and counties in the relatively undeveloped region.
Known as the cheapest train ride in China, the seven-hour journey along 485 kilometers of the southern branch of the historical Silk Road costs just 28 yuan ($4.15) per person, one-third the cost of a bus fare. Some short journeys cost just 1 yuan.
Travel was once vexing in many places along the route, where sandstorms and dust dominate the weather about 200 days of the year. The railway has shortened the distance between people and their jobs.
"It used to be very difficult for me to go to neighboring counties, and my clothes were a total mess after traveling by donkey or motorcycle," said Seydiehmet Kichik, 29, of Hotan. "The opening of the line gave me more job opportunities."
Picking cotton in Aksu prefecture, about 600 km from his hometown, he can earn 12,000 yuan during the three-month harvest season, more than his income for the entire previous year.
The train is an "affordable, essential tool" for many in China-especially in the west, which remains largely out of reach of high-speed rail, he said.
Poor transportation infrastructure has caused Xinjiang to lag behind eastern regions in economic competitiveness. Building more railways has become a necessity to facilitate its growth and improve people's living standards.
With the launch of the standard line in 2011, underdeveloped regions along the railway have been connected to Urumqi, Xinjiang's capital, and to the rest of China's rail network, which boasts 29,000 km of high-speed lines.
Mehmet Yusup, a 46-year-old jade merchant from Hotan, travels a lot to Kashgar and Urumqi and sometimes even to Beijing, Shanghai and Guangzhou for business. He finds the train to be "a great help".
"I used to take the bus to Urumqi and then transferred to other places, which usually took two or three days," he said.
"It was really time consuming and not safe. It is especially convenient to have a train now, and the cost is not high."
The new ease of travel-one day to Kashgar and back-enabled Mehmet to open a grocery store in Kashgar last year.
"I could even buy some farm products on the train, since many local residents along the route make the train a sort of mobile bazaar, especially before Spring Festival," he said. "Every time I take the train I buy some specialties for my family."
Wang Weishuai, a 36-year-old locomotive engineer, said the trip from Kashgar to Yecheng offers pleasant views, though sandstorms frequently blight the section from Yecheng to Pishan, which makes his job more challenging.
"The train is of great significance to the people here and I will keep working on it as long as it continues to run," he said.