In era of speed, slow trains chug on
China Daily,February 14, 2019

Adjust font size:

Editor's Note:Although China boasts the world's longest high-speed railway network and has replaced most slow trains with bullet trains, a few of the slow trains are still operating to connect remote areas with nearby towns and cities. China Daily reports on three of those lines and tells the stories of how they play a vital role in local people's lives.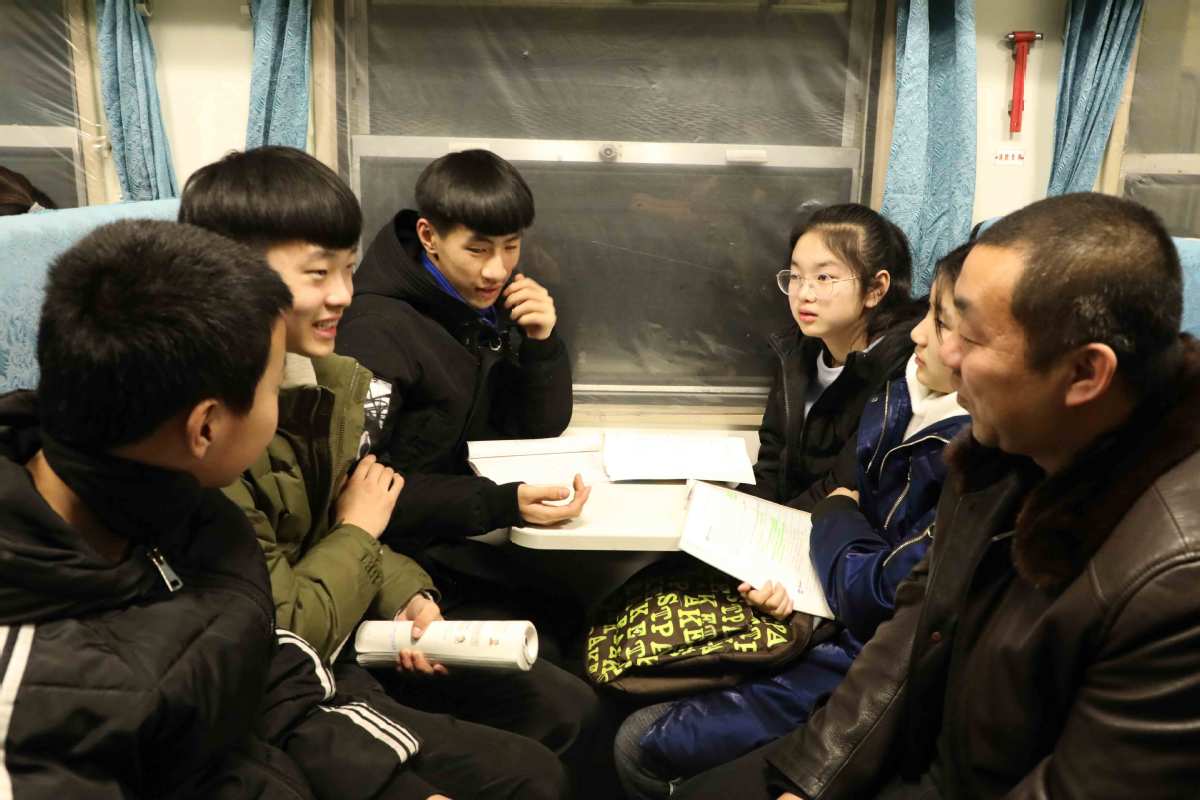 Students chat with their teacher on their way home on No 4059 train in Heilongjiang province. CHINA DAILY
Heilongjiang: A railway becomes a biweekly school bus for students
Even during the recent Spring Festival travel rush, the small platform at Xinlin Railway Station in Greater Hinggan Mountain prefecture, Heilongjiang province, didn't seem much busier.
Every day it welcomed several slow trains, including No 4059, which chugs along 379 kilometers of track between Jiagedaqi district and Hanjiayuan town.
Since 2000, the classic green train has become a special school bus for students attending Xinlin's No 2 Junior Middle School. The route has carried about 6,000 students at low fares for the past 19 years, according to China Railway Harbin Group.
Around 2000, the local government began cutting back commercial logging in the prefecture, which led to a gradual population decline in areas tied to the forests.
In 2000, the local education bureau merged the junior middle schools of seven towns - Hongtu, Tayuan, Linhai, Dawusu, Bizhou, Cuigang and Targen - into No 2 Junior Middle School, a boarding school in Xinlin town.
Every two weeks, students get a four-day break to return home after 10 consecutive days of classes.
From the nearest distance of 16 km to the farthest of 75 km, a suitable vehicle to transport the students was urgently needed. After study, the railway bureau chose train No 4059 and adjusted its timetable to suit the school's schedule.
"We require students from the seven towns to take No 4059 when they go home and return," said Bai Junling, deputy headmaster of the school.
"Forestry workers usually don't have high incomes, so it is the most economical choice for the students. It costs only 4 yuan ($0.60) from Xinlin to Cuigang 50 km away. A bus ticket for the same distance is 13 yuan.
"Most important, due to the rough mountain roads, and especially with snowy conditions in winter, the train is the safest choice and makes parents and teachers feel secure."
Ma Dianchun, head of Xinlin Railway Station, said: "The service carried about 700 students each trip at the beginning, which is quite a large number for such a small station. To save time and avoid disorder, we sent tickets to the school in advance.
"In recent years, the number has dropped to around 100, so our workers have plenty of time to organize the students."
Wang Lili, a teacher at the school described the experience.
"A teacher accompanies the students until the last one gets off," Wang said. "Teachers and students sometimes work on difficult problems together or chat informally in a relaxed atmosphere, making the trip feel much shorter.
"We have also become familiar with the railway workers. On every trip they interact with students and afterward have sent along any books or other items that were accidentally left on the train."
Niu Rui, 16, a second-grader from Cuigang town, said: "I can't remember how many times I've taken the train since I entered No 2 Middle School two years ago. ...The coach always makes me feel warm even in extremely cold weather.
"I believe the train will take us to realize our hopes and dreams. I hope this journey will be one of the most unforgettable memories of my life."