Ding Ware, as White as Snow and as Lustrous as Jade
China Today,May 28, 2018

Adjust font size: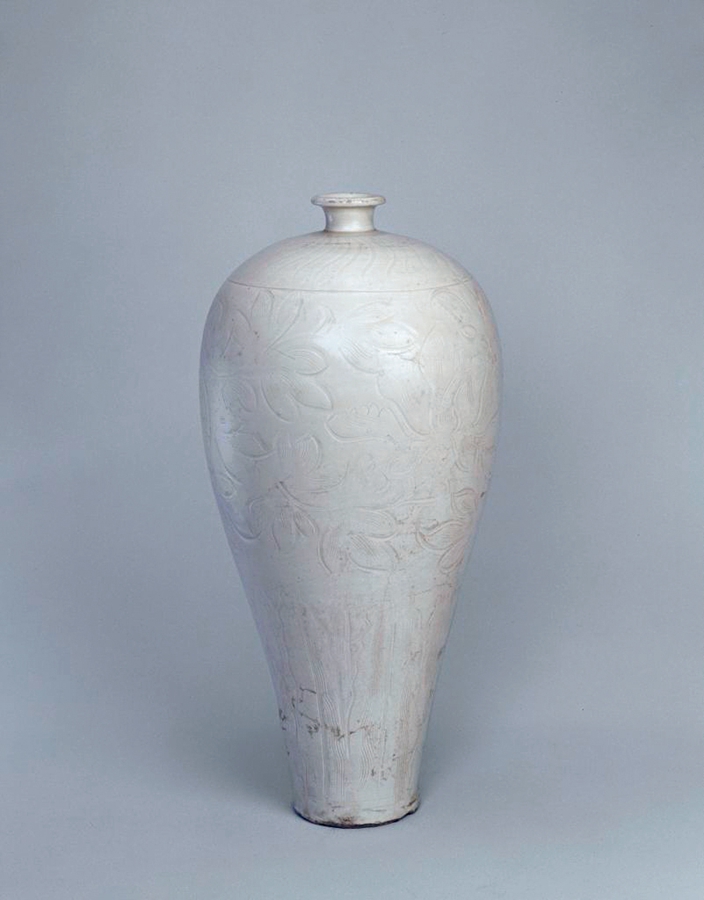 White-glazed prunus vase with carved pattern (Palace Museum in Beijing)
The vase features a short, narrow neck, round shoulders, and tapered body, which is a typical Ding prunus vase from the Song Dynasty. The white glaze is clear and mild, with a touch of yellowness. Chrysanthemum petals are carved on the shoulders, and interlocked lotus below. The engraved lines are clear, fluid, but of different depths, displaying the advanced carving techniques of Ding ware makers.
Ding ware is also distinct for its carved, incised or pressed patterns, which marks a turning point in the history of Chinese porcelain. One patterning technique is lineation with a round-tipped or bamboo lancet on the clay body of an item. There were no fixed rules to be followed in this production method, the size and shape of the engraving tool and the personal style of the potter could produce a number of elaborate, yet completely different styles of porcelain.
A stamped pattern is also representative of Ding ware. This is achieved by pressing carved blocks to the clay surface of an item before it is fully dried. This technique debuted in the mid Northern Song, and matured in the latter period of the dynasty. With influence from designs of silver and gold wares, it was artistically sophisticated, and was adopted by potteries in both northern and southern China.
The sweeping popularity of Ding ware prompted kilns in other regions to emulate its shapes, patterns, and production method, and gradually some regions could produce porcelain of equal quality. The extension of Ding ware production had a far-reaching impact on China's porcelain industry.
Ding ware declined in the Yuan Dynasty, which some blamed on the rise of the blue and white ware made in Jingdezhen. It was brought back to life in the 1970s, when Chinese potters developed more than 200 lines of products on the basis of antique techniques. Today, Ding ware is exported to dozens of countries and regions around the world including the U.S., Japan, and Canada.