Ding Ware, as White as Snow and as Lustrous as Jade
China Today,May 28, 2018

Adjust font size:

Dating back to the Tang Dynasty (618-907) and peaking in the Northern Song (960-1127) and Jin (1115-1234) periods, Ding ware is famed for its thin clay body, pure white glaze, and firm texture. It is usually imprinted with decorative patterns produced by various techniques.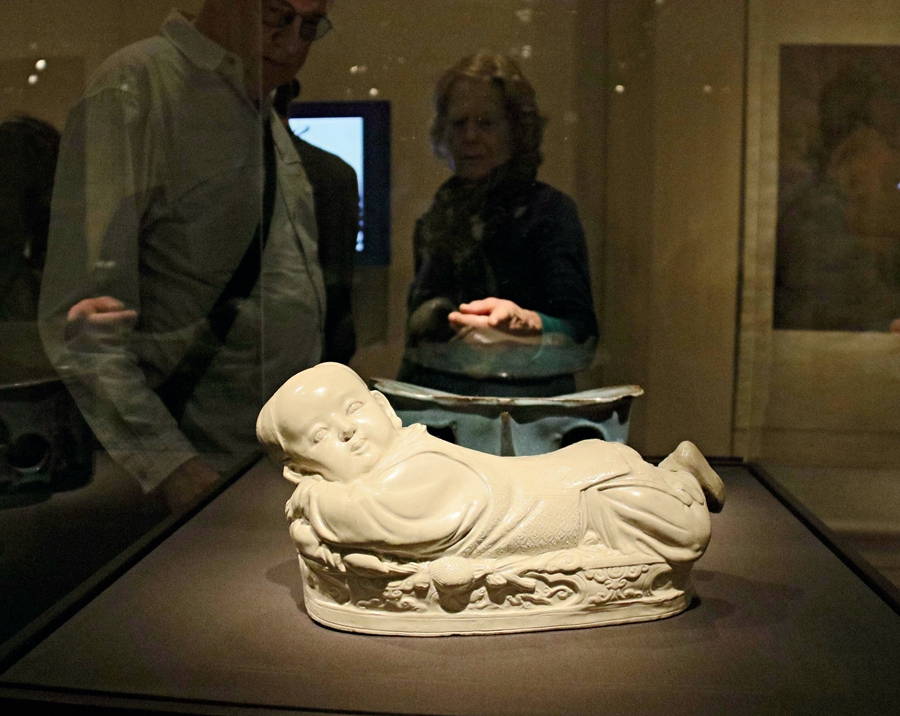 Boy-shaped pillow (Palace Museum in Beijing)
The ivory-colored porcelain pillow is shaped like a child lying on his stomach, with his arms folded beneath his chin and feet tipping up in the air. It was believed to be fired in a mold before being further sculptured.
Ding Ware was among the top five porcelain wares in the Song Dynasty, and was the only one of white color among them. It was named so because its production was based in Dingzhou (now Jianzi Village, Quyang County of Hebei Province). Kilns there continued operation over more than 500 years, from the Tang to Yuan (1279-1368) dynasties. Their zenith came in the Northern Song, when Ding ware was designated for use by the royal family, and therefore sold like hot cakes.
What set Ding ware apart from other porcelain was its paper-thin body, jade-white color, and chime-like sound on taps. Its glaze is smooth, sleek, and white with a smatter of warm hues, reminiscent of the fair skin of young girls or Hotan jade (a white jade from Xinjiang whose fine texture earns it the nickname "mutton fat").
The sublime-quality glaze of Ding ware is attributed to its firing technique and the ceramic raw materials. Ding ware is baked at a temperature of over 1,300oC, compared with 1,250oC for most other ceramics. Such heat results in a fine, firm texture, and the titanium dioxide in the raw material mixture gives the glaze an ivory semblance that appeals to Chinese aesthetics.