Ding Ware, as White as Snow and as Lustrous as Jade
China Today,May 28, 2018

Adjust font size: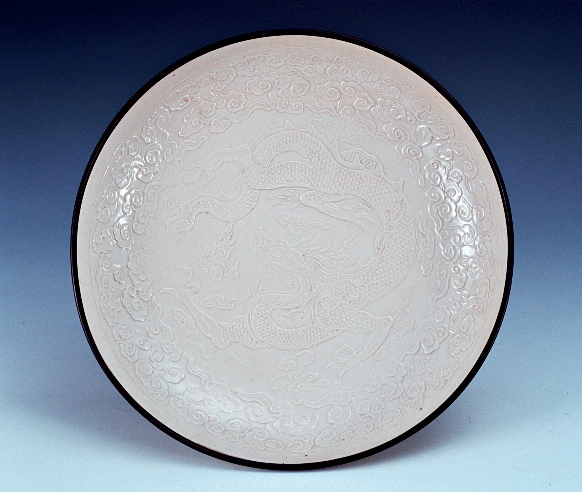 White-glazed platter impressed with cloud and dragon pattern (Shanghai Museum)
This platter is thinly and evenly shaped, and covered in yellowish-white glaze. "Tear marks," a hallmark of Ding ware, can be seen on its outside wall, and a dragon encircled by clouds is clearly impressed inside. The rim is covered by brass. This item is hailed as one of the best Ding wares ever made.
Firing is a critical step in the production of chinaware. To monitor and control the temperature, makers of Ding ware place clay scraps at different locations in the firing chamber, and constantly checked their changes in the firing process through a slot on the kiln door. The raw plates and bowls are stacked upside-down in the kiln, with ring-shaped clay partitions between them. This allows more items to be loaded for each firing, saves fuel, and reduces the rate of deformation, thereby significantly lowering cost and boosting productivity. The downside is that the glaze has to be scratched off the rim of the utensil beforehand to prevent sticking.