Jinan – City of Springs
China Today ,April 20, 2018

Adjust font size:

Centuries-old Cuisine




Other than amazing scenery, delicious food is also one of the highlights of trip to Jinan. Local cooking style belongs to the Lu Cuisine.




China's culinary landscape boasts long history and great culture. Lu Cuisine takes the lead in terms of influence and cultural profundity. It is believed that Confucianism originating from Shandong has not only developed the collective personality of Chinese people, but also shaped their views on diet. Confucius was a philosopher, an educator, and a gastronome. In the Analects of Confucius, his opinions on health, seasoning, dietetic hygiene, cooking temperatures, skills of cutting, and table manners can be found. In addition, The Book of Rites, a Confucian collection describing social norms and ceremonial rites, records some standards for food ingredients, cooking methods, and seasoning. It can be observed that most of the earliest culinary theories in China stemmed from Shandong which set a solid foundation to develop into the local Lu Cuisine.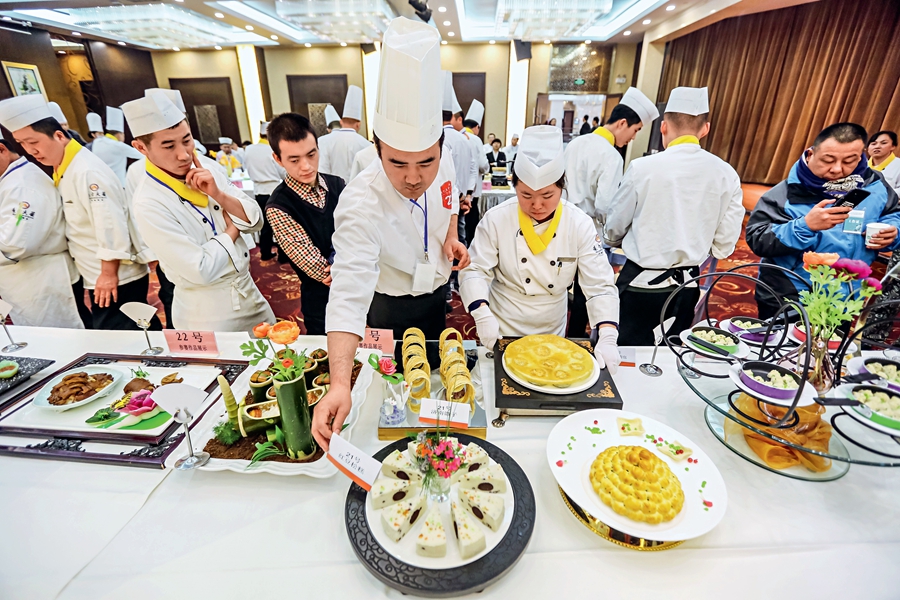 A cooking contest of Shandong cuisine is staged in Jinan on January 17, 2018.
The history of Lu Cuisine can be traced back to the Spring and Autumn Period (770-476 BC). It grew into a representative of northern China's cooking after the Song Dynasty (960-1279). In the Ming (1368-1644) and Qing (1644-1911) dynasties, it became the dominant cooking style of the imperial court. In Manchu Han Imperial Feast – the grandest traditional Chinese meal – Lu Cuisine takes up the majority of the menu. Its fresh and salty flavor has greatly influenced the dietary habits in northern China, particularly in Beijing and Tianjin.
Shandong neighbors the Bohai Sea and the Yellow Sea. As a result, seafood of exemplary quality is a major component of Lu Cuisine which is inclined to keep the freshness of ingredients. Sea cucumbers, abalones, fish skins and so forth are usually made tastier by cooking with soup stock. Furthermore, every kind of ingredient – from meat to fruits and grains – are nicely matched. Moreover, the principle of balance in traditional Chinese philosophy is embodied in the ways of blending sugar, vinegar, and sauce as well as controlling cooking temperatures to ensure mouth-watering colors and taste.
Scallions can be found in many recipes of the Lu Cuisine owning to Shangdong people's fondness of this vegetable. For instance, Peking roast duck is always served with sliced scallions to make the meat more delicious. Fried sea cucumber and fried beef tendon are seasoned with a great deal of scallions. It is also an essential ingredient for making meat filling and cold dishes. Zhangqiu is especially noted for quality scallions.