Jinan – City of Springs
China Today ,April 20, 2018

Adjust font size:

He returned to the site three months later. An intact stone axe and some black pottery pieces that had never been seen before were unearthed this time. Wu's findings received great attention from archeological circles. As more pottery and stone wares were raised up out of the ground, a Neolithic civilization dating back about 4,500 years was revealed. Noted for its highly polished black pottery, the culture was named Longshan after its geographic location.




It is the first significant Neolithic culture discovered by Chinese scholars and one of the research highlights of China's prehistoric archeology. Before that, painted or red pottery wares containing much sand had been seen a lot among unearthed relics in China. But the pottery pieces unearthed in Longshan are usually black or dark grey with a fairly smooth surface, and are in shapes of cups, plates, jars, and cooking containers.




Some of the black potteries are as thin as eggshells, which require sophisticated techniques and a kiln temperature of as high as 1,000 degrees centigrade to manufacture. Representing a high level of skills in pottery making, the eggshell black pottery is not easy to produce even in the present day, let alone for our ancestors over 4,000 years ago.




Other than black pottery wares, archeologists also found fine polished stone knives, shovels, chisels, and tools made of bones. It was to the excavators' surprise that oracle bones similar to those unearthed in the Yin Ruins in Henan Province were found at the Longshan Culture site as well. However, no signs were made on these animal shoulder blades.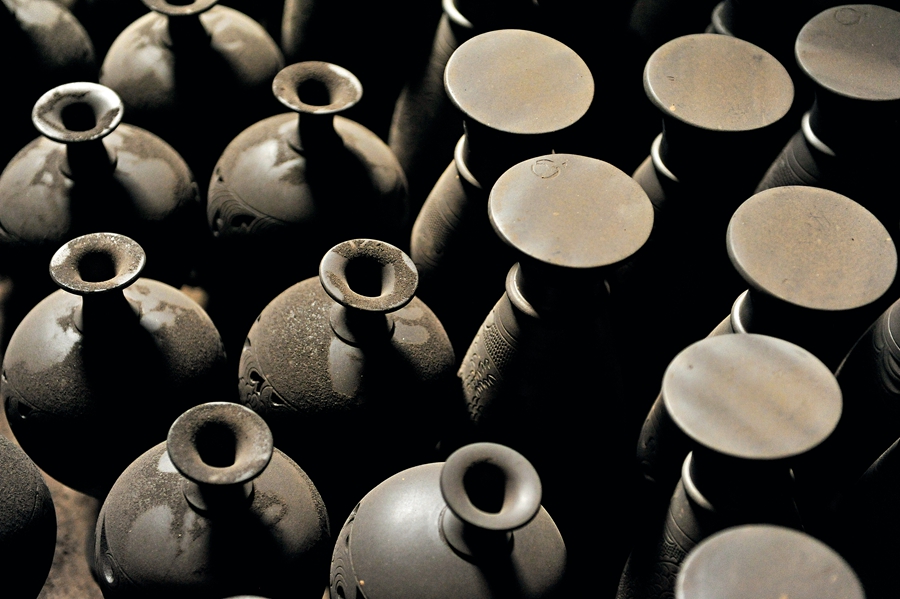 Some black pottery pieces of the Longshan Culture.
Research and excavations carried out in the following decades have eventually ascertained that it used to be a settlement in the Longshan Culture period. Covering an area of 200,000 square meters in a rectangular layout, the settlement was fairly large in size in the prehistoric period.
First constructed around 2000 BC, the settlement existed and expanded all through the centuries until the Zhou Dynasty (1100-256 BC). Residents mainly relied on agriculture, supplemented by cattle breeding, fishing, and hunting. Handicrafts were rather well developed and metallurgy was emerging. Small bronze wares and materials for bronze smelting have been dug up too. The Longshan Culture has brought an unknown history to light. It was later known as the Longshan Age.