Striving for Ecological Advancement
China Today by Fan Xing,December 27, 2017

Adjust font size:

Curbing soil pollution also makes up an important part of ecological progress and environmental protection. According to the Action Plan for Soil Pollution Prevention and Control announced by the State Council in May 2016, surveys on soil quality would start in 2017, involving former areas used for such industries as non-ferrous metal metallurgy, petrol refining, chemical engineering, coking, electroplating, tanning, and so forth as well as lands transformed from the aforementioned industries into schools, medical centers, nursing homes, and commercial districts.

Take Tianjin for example. By July 2017, 136 tracts of land in the city had been evaluated for their soil quality, 27 of which were assessed to have been polluted. Soil restoration projects have been completed on five of these polluted lands while another six are under remediation. Same measures have also been taken in Chongqing Municipality, in Southwest China. To date, 26 pieces of land in the city covering 1.59 million square meters have been assessed, of which 13 have been cleaned up.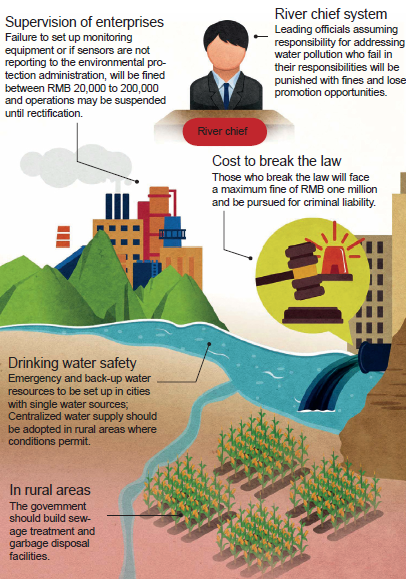 Water Pollution Prevention and Control Law.
The Action Plan for Soil Pollution Prevention and Control prohibits using polluted lands that are not yet recovered at the present stage. Local governments are in charge of marking out these lands, putting up signs, posting notifications, and supervising the quality of soil, air and water on the surface and underground. In case of any pollutant diffusions, the one who takes main accountability must take prompt actions including isolating contaminants.
In Hebei Province, for instance, risk management and control over long-standing sludge polluted lands have been strengthened. Xinji, known as China's "leather capital," has been producing sludge with residues. At present, seven places to temporarily store around 730,000 cubic meters of sludge that has not been cleaned up are blocked for public safety.
Furthermore, the action plan calls for preventing potential disasters caused by tailings ponds. All over the country, steps have been or are being taken to eliminate hidden dangers of tailings impoundments, particularly of those situated on the upper stream of populated areas. As of July 2017, 17 tailings ponds have been restored in Shandong Province; in Jiangxi Province 11 ponds have completed the remediation; and Xinjiang Uygur Autonomous Region has carried out comprehensive rehabilitation at 20 tailings ponds, and finished the work in eight of them.
Efforts have shown promising results. Compared to 2013 when the Action Plan for Air Pollution Prevention and Control was launched, PM2.5 density in Beijing-Tianjin-Hebei area, the Yangtze River Delta, and the Pearl River Delta has dropped by more than 30 percent in 2017, year by year. Meanwhile, the proportion of clean surface water meeting national environmental quality standards has increased to 67.8 percent. Moreover, lists of contaminated lands in cities including Beijing, Tianjin, Shanghai, and Chongqing have been released. Companies kept under intensive control of soil pollution have been listed as well in some cities. These approaches aim to ensure strict enforcement of the law to curb new pollutants.