Striving for Ecological Advancement
China Today by Fan Xing,December 27, 2017

Adjust font size:

Air, soil, and water – the basic elements of the ecological system – are not simply substances for human beings to survive on, but also indispensable natural resources critical to economic and social progress. Therefore, strengthening the control of pollution and facilitating the restoration of polluted air, soil, and water, play a vital role for China's sustainable development.

New Responsibility of National Development Strategies

Striving to achieve green, low-carbon development and ecological progress has been set as an important goal for national growth in China, providing guiding philosophies to tackle environmental challenges. Top-level design and national strategies in this regard have been continuously improved by the Communist Party of China (CPC). The basic framework for ecological progress took shape at the 18th CPC National Congress in 2012, followed by underlining the importance of establishing a comprehensive system for ecological progress at the third and fourth plenary sessions of the 18th CPC Central Committee. Later in 2015, the CPC Central Committee and the State Council expounded opinions on accelerating the promotion of ecological progress which are considered to be a guideline in this field.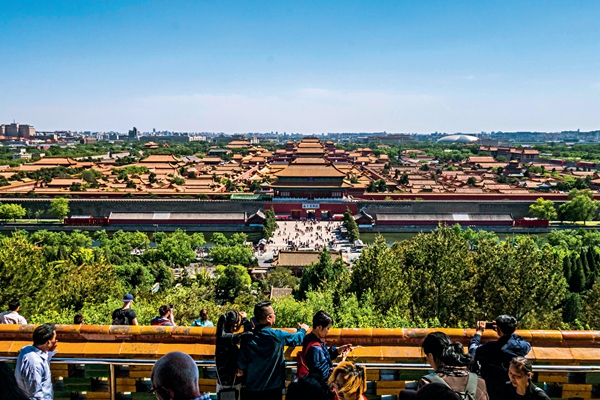 Clear skies allow for a beautiful view from Jingshan Park in Beijing.
In his report delivered at the 19th CPC National Congress in October, President Xi Jinping vowed to speed up reforming the system for enhancing ecological advancement and continuing the Beautiful China initiative. He further stressed acting on the principles of prioritizing resource conservation and environmental protection and letting nature restore itself, developing spatial layouts, industrial structures, ways of work and life that help conserve resources and protect the environment. With this, Xi indicated, we can restore the serenity, harmony, and beauty of nature. Implementing the Beautiful China initiative heavily involves industrial transformation and upgrading.
Speaking of prominent environmental problems, Xi, in his report, noted that "We will get everyone involved in improving the environment and address environmental issues at the root; continue our campaign to prevent and control air pollution to make our skies blue again; speed up the prevention and control of water pollution, and take comprehensive measures to improve river basins and offshore areas; strengthen the control of soil pollution and the restoration of polluted soil, intensify the prevention and control of agricultural pollution from non-point sources and take measures to improve rural living environments." Pollution prevention is both an integral aspect of China's sustainable development and a sure way for the country to serve as a responsible global leader.
Tough measures for curbing polluted air, water, and soil were launched in 2013, 2015, and 2016. In the past year, progress has been made in strengthening the environmental protection law system, which has substantially facilitated the implementation of environmental management schemes. Supervision and law enforcement on environmental issues has been carried out tighter than ever before since the 18th CPC National Congress. A series of laws on environmental protection, air and water pollution prevention, evaluation of environmental effects, environmental protection tax, and nuclear safety have been revised. Moreover, a soil pollution prevention law has been tabled in the National People's Congress Standing Committee for consideration. In addition, new regulations and mechanisms have been playing a proactive role in urging companies to obey the laws ever since the revised Environmental Protection Law was enacted in 2015.