Striving for Ecological Advancement
China Today by Fan Xing,December 27, 2017

Adjust font size:

Pollution Control Achievements

Pollution prevention sets the foundation of ecological advancement. In 2017, China has witnessed encouraging achievements in building up its capability in this regard.

Automobile emissions are one of the main causes of air pollution. Guided by the Action Plan for Air Pollution Prevention and Control released by the State Council in September 2013, low-carbon transportation systems have taken shape in such areas as Beijing, Tianjin, and Hebei Province. What's more, examinations on ship oil quality have been conducted to supervise the use of qualified fuel oil. Some toll stations are charged by weight in a bid to rein in excessive emissions of overloaded or oversized vehicles.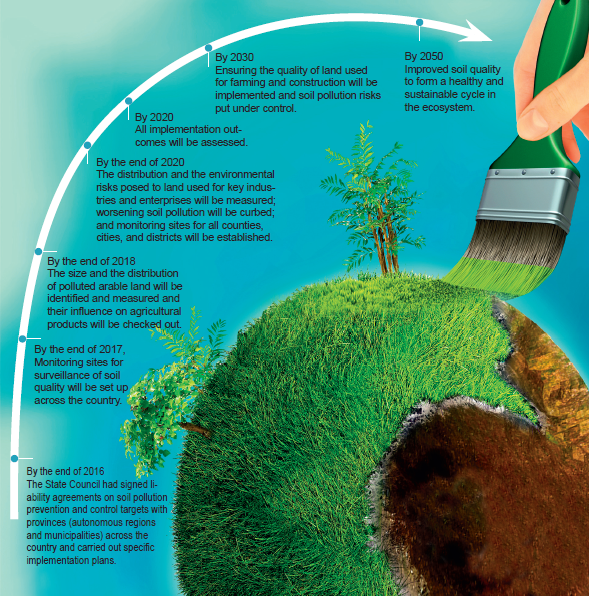 Measures addressing climate change are expected to produce synergies in reducing the discharge of major pollutants and improving air quality – most likely to an extent of 42 percent according to experts' calculations. Stronger measures against air pollution introduced in the past year have greatly enhanced the country's ability to adapt to climate change. For instance, regular air pollution assessments have been set up; and environmental meteorological indexes and reports of national atmospheric environment are frequently released. Evaluations on emission reduction and forecast of heavy pollution have also been carried out.
In addition, a haze examination and detection mechanism has been established and extended to cover wider areas. The number of smog monitoring sites across the country has been increased from 126 in 60 cities to 150 in 74 cities. Also, a pilot project has been conducted in a number of cities to survey the source of air pollutants (including PM2.5) in densely populated public places and their influence on people's health. Boosted by stringent measures, synergies in air pollution control and the ability of adapting to climate change are conspicuously manifested nowadays.
Water treatment projects in cities have been propelled towards the goal of eliminating black and stinky water in urban areas by the end of 2017, a target set by the State Council's Action Plan for Prevention and Treatment of Water Pollution. Over 200 heavily polluted water bodies nationwide are set as key targets of which geographic information, treatment progress, and desired outcomes are open to public supervision. In addition to remote sensing satellites, other means including investigations in various forms and handling public tip-offs are adopted to monitor the projects as well. Heads of departments overseeing water pollution control are responsible for these projects. Up to April 2017, 34.9 percent of black and odorous water bodies in urban areas have been cleaned up. Some 51 percent are either in progress or undergoing the earlier stages of clean-up. Relevant plans are being developed for the rest.