Former Pakistan PM: Chinese Plans Benefiting the World
China Today by Zhang Hui,November 21, 2017

Adjust font size:

The 19th National Congress of the Communist Party of China (CPC), which was freshly wrapped up in October, has not only sparked a domestic craze to study the report delivered by Xi Jinping at the congress, but also triggered heated global discussion about China's future development blueprint in a new era mapped out in the report. On November 16, themed as "The 19th CPC National Congress: Implications for China and the World," an international think-tank symposium was held in Beijing, with participants from 31 countries and regions.


As the top priority of China's pursuit of opening up in all fronts, the Belt and Road Initiative drew lots of attention at the symposium. An active participant and also a beneficiary of the initiative, Pakistan has a lot to say about the topic. China Today interviewed former Prime Minister of Pakistan Shaukat Aziz, who honored the symposium as an attendee.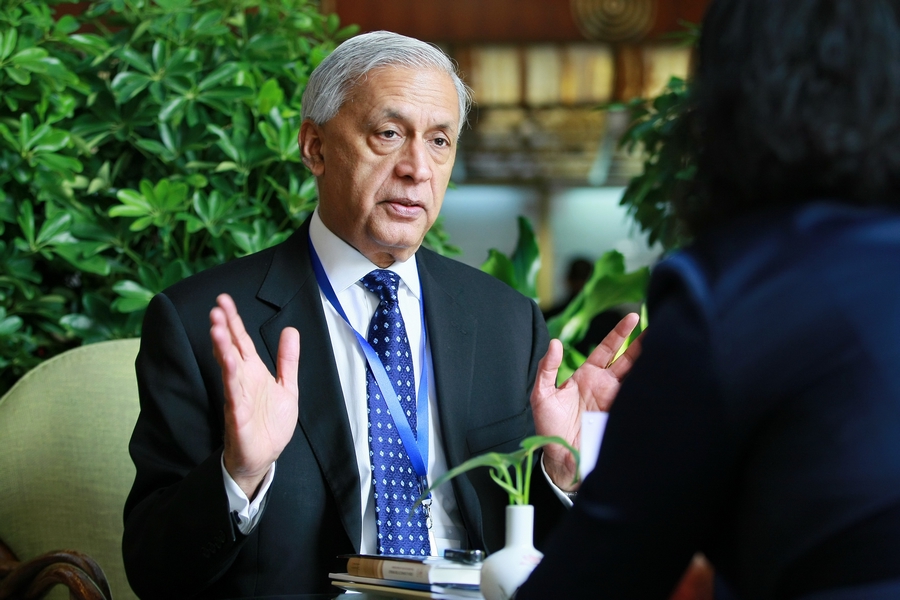 Former Prime Minister of Pakistan Shaukat Aziz in an interview with China Today.Yu Jie
An Initiative Propelling Global Development
"I think it's a super initiative, a true game to empower the world," Aziz told China Today. He thought the Belt and Road Initiative historically significant with far-reaching influence and the potential to fundamentally change the world. He indicated that the initiative is providing a new type of connectivity among countries along the routes.
"The whole world is paying close attention to it because it will change the destiny [of some countries]. It [the construction of the Belt and Road] creates growth, new infrastructure, and connectivity between nations. When that happens, you get economic growth. If you get growth, people will get the standard of living raised, poverty reduced, and they will feel better. When people work hard, it helps grow the country," Aziz told China Today.
Aziz said Pakistan is one of the beneficiaries of the initiative. He pointed out at the symposium, "I can tell everyone I know, based on my past experience and my personal judgment, the Belt and Road Initiative will truly unleash the development potential of related countries, and improve their peoples' lives."
Aziz remarked that the implementation of the Belt and Road projects is exerting profound influence on Pakistan. "Pakistan will benefit substantially. These all enable growth. When you have better infrastructure, well-educated people, and new projects coming, you get growth. These also create opportunities for people, more jobs, and a better future. So it's a win-win for both sides, no hidden agenda. That's why we like it. Very simple, and clear," Aziz told China Today.
Mentioning Pakistani people's response to the initiative, Aziz said, "The initiative is well-known in Pakistan. Pakistan people are very thankful to China for building roads, power plants, and other infrastructural facilities. There are many projects in Pakistan and lots of Chinese companies. And we welcome them. Because Pakistan needs investment, and growth comes with investment and jobs created by investment. With the implementation of the initiative, the standard of living and the quality of people's lives have improved." Aziz regarded that the initiative has a bright development prospect, and Pakistan will further advance its implementation.
Aziz said China-Pakistan relations have been heading towards the best of all times. "We're closely aligned, and have been closely together on foreign policies, and policies regarding all parties of the world based on peace, progress, and prosperity for all people."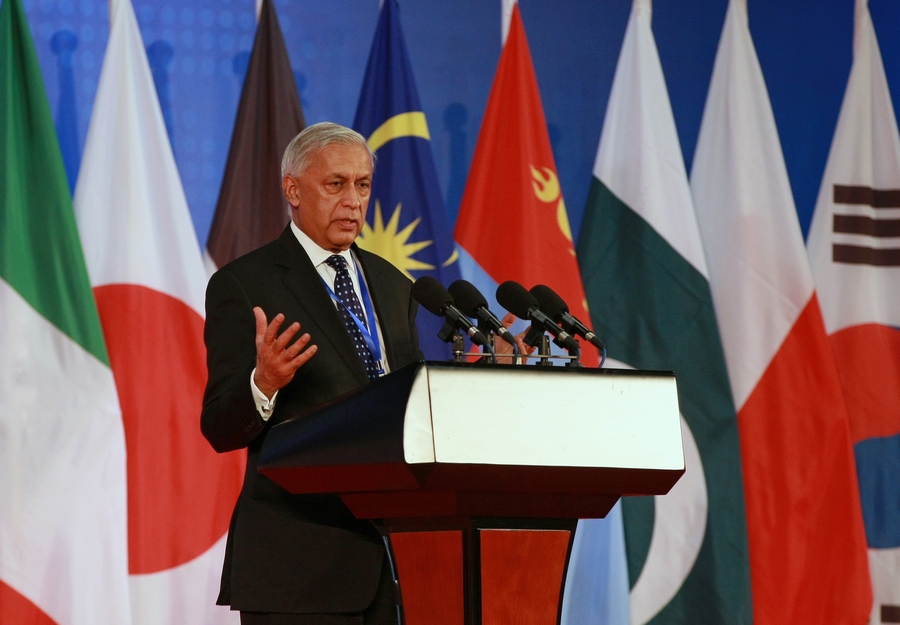 Former Prime Minister of Pakistan Shaukat Aziz spoke at the international think-tank symposium on November 16. Yu Jie
A Great Congress Influencing the World
Aziz regarded the recently concluded 19th CPC National Congress as a significant event with global influence. "The congress is of great significance as it mapped out the focuses of the country's future development. It emphasizes win-win cooperation and deepening relations with old friends. China also commits to helping other countries' development," Aziz told China Today.
General Secretary Xi Jinping reiterated "building a community with a shared future for mankind" in the report delivered at the 19th CPC National Congress. Aziz spoke highly of the proposal, "It's a very practical and effective concept. Because if you have a shared future, if your success can lead to other people's success, people will be peaceful. They'll try to help each other, and not compete to each other, or have conflict with each other. I think it's a guarantee for peace. And peace and respect come together."
An old friend of China, Aziz has many personal experiences of China's drastic changes. "When I first visited China in the 1990s, there were few hotels, road quite empty at night, people mostly on bicycles, and few cars. We had to pay foreign currencies to use taxis. Now it's a completely different country, a major transformation. China now is a big power of the world. At the same time, you can also see a lot of Chinese around the world, so China is expanding, establishing its brand through its people." Aziz attributed all these to the country's good system, effective policies, and wise leadership.