Panama – Connecting China with Latin America
China Today,October 30, 2017

Adjust font size:

A Key Destination

On July 1, before attending a session of the National Assembly of Panama, Commerce and Industry Minister Augusto Arosemena said that "Panama will be the bridge between China and Latin America." Moreover, on June 12, the same day that the establishment of relations with China was announced, Panama launched its new national brand, promoting itself as an ideal destination for foreign investment in Latin America under the motto "Panama: The Great Connection." It is important to remember that Panama is located in a strategic geographical area.

"Panama has always been a viable route throughout history," said Any Lam Chong Leon, former representative of the Panama-China Trade Development Office in Beijing and now charge d'affaires of the country's embassy in China. As history has shown, for 500 years, the Isthmus of Panama has been an essential trade route between the Atlantic and Pacific Oceans. For this reason, the participation of Panama in the "21st-Century Maritime Silk Road" promoted by the Chinese government is now gathering importance.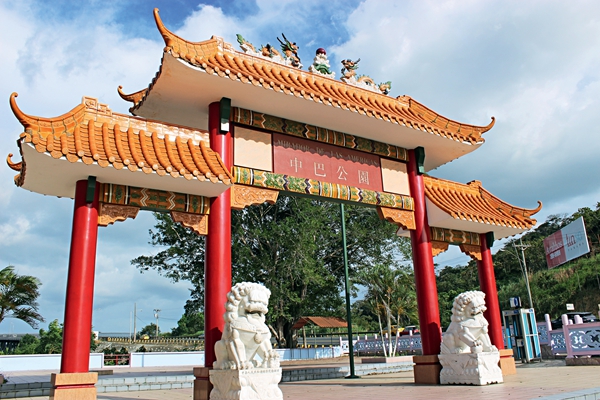 A Chinese-style park, built in Panama in 2004, commemorates the Chinese presence in the country.
"We want to be part of this initiative, and we will try to advance it," said Any Lam Chong Leon, whose parents emigrated to Panama 35 years ago from the Chinese city of Zhongshan, Guangdong Province. "Panama and China are two developing countries that agree on the importance of globalization and the shared responsibilities of countries in terms of their global development agenda. I do not doubt that we will participate in the Chinese initiative," she added.
In fact, on June 7 – five days before the announcement of the establishment of diplomatic relations – the China Landbridge Group began construction of a container port on Margarita Island, in the Panamanian province of Colón, with an investment of US $1.1 billion. "The purpose is to modernize this deep-water port to play a more important role in the framework of the Belt and Road Initiative," Bai Yunyi, a journalist of the Chinese newspaper Global Times in Panama, told the CGTN network.
China is currently the second largest user of the Panama Canal, through which, in 2016, 38.6 million tons of cargo went to and from China. In addition, two Chinese consortiums have already been pre-qualified for the construction of the fourth bridge over the Panama Canal, through which will pass five percent of the world's maritime trade. China is also the leading supplier of goods in the Colón Free Zone, the largest free trade zone in Latin America, located on the Atlantic coast of Panama.
Therefore, President Varela's administration hopes that the establishment of diplomatic relations with China will boost Panamanian exports, which have fallen in recent years (US $817 million in 2014, US $695 million in 2015, and US $635 million in 2016).