The 60th Birthday Celebration: Respect for Seniors
China Today,October 26, 2017

Adjust font size:

Festive Huajia Banquets

Specifically, huajia banquets of the Korean ethnic minority took shape between the middle of the 17th century and 18th centuries. Young people hold grand banquets for elders on their 60th birthdays by inviting relatives and friends. It's a way of giving thanks for bringing them up.

A huajia banquet has a set of strict procedures. It is traditionally held in the yard of a country home, and the 60-year-olds and their family dress in their best. In ancient times, pure white ethnic clothes were favored on such solemn occasions, while today, brightly-colored ones have become people's top choice to kindle a jubilant atmosphere. The 60-year-olds' clothes should be bought by their children specifically for the event, and shouldn't be lent out after the occasion, as they are supposed to be worn when the senior passes away.

The highlight of a huajia banquet is drinking a toast to the birthday seniors. The host first gives an introduction to the person's life. And then his or her children, as well as children of close relatives, kneel and offer the person a small cup of wine, one by one, from the oldest to the youngest. With this, they thank him/her for their contribution to the whole family and wish him/her health and longevity.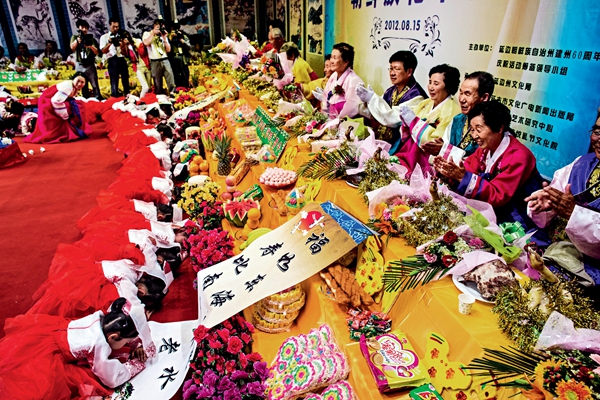 Every 60th birthday is celebrated ceremoniously with a huajia banquet by China's Korean ethnic minority.

After the toast comes the entertainment. People sing and dance merrily, reaching the climax with the "bottle dance." Guests or performers put a glass bottle more than half full of fruit wine on their head, and beat it with their hands while dancing. Sometimes they move gracefully and sometimes in a spiral. Their beautiful dance manifests their culture (women excel at singing and dancing) and also their traditional virtue of respecting the elderly.
Then comes the feast. A round table is laden with candies, cooked meats, cakes, and drinks, and the three essential dishes at a banquet – chicken, fish, and peaches – as they represent good luck. The staple food is normally glutinous rice cakes and multi-layered steamed buns, which are a traditional food of the Korean ethnic group. As to kimchi, the spicy pickled cabbage, though a popular local specialty, it is not served on such an occasion.
The banquet is held at noon and the longer it lasts, the happier the host will be. That's why it usually goes on till dinner time; afterwards, people sing and dance all night long. When friends and relatives are about to leave, the host distributes the cakes, candies, and fruits for them to take home.
The hospitable host usually gives a return banquet on the third day after the huajia banquet for two reasons: one, to lengthen the festive atmosphere and two, to thank their friends and relatives for help.