A Mystical Metropolis on the Snowy Plateau
China Today,October 25, 2017

Adjust font size:

Lhasa Today

Convenient transportation has provided the conditions necessary for Lhasa's development.

Historical records show that Lhasa's urban area in 1950 covered less than three square kilometers, and had only 30,000 residents. The city had neither water-supply lines nor sewers, and none of the roads was surfaced. Groups of girls fetched water in wooden pails from the foot of Chakpori Mountain and the Lhasa River every morning.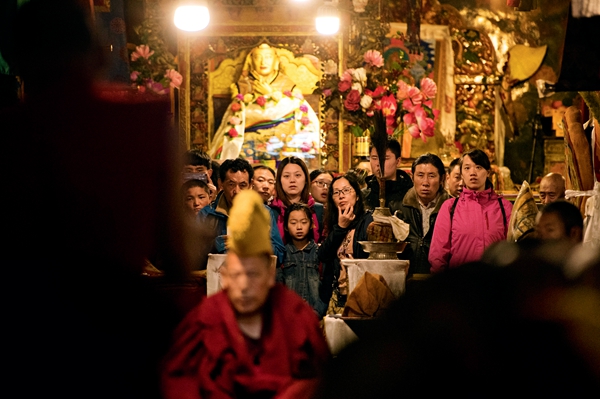 Visitors watch a ceremony at Drepung Monastery in Lhasa.
At the end of 2012, Lhasa invested about RMB 1.5 billion in preserving the old city. After six months of construction, the circumambulation paths around the Jokhang Temple had been widened, and vendors on Barkou Street no longer traded outdoors. The backward municipal infrastructure was modified, and streets and lanes in the old city were made neat and orderly.
Urban planning continues to enlarge the city of Lhasa. Its 60-sq-km area is 20 times larger than it was decades ago. The city region straddles the Lhasa River, making it Lhasa's second administrative district. There are 100 or so inns and restaurants along the riverside, whose banks are also venues for drama performances such as that paying tribute to Princess Wencheng. Having debuted in August 2013, the play is now synonymous with the city.
Today, with the Potala Palace at its core, row upon row of high-rise buildings dotted with gardens have formed a modern city. Its flourishing hotels, banks, shopping malls, and designer shops make one forget Lhasa's remote location on a snow plateau. The popularity of mobile phones and Internet also connects the city with the world outside.
Walking along the bustling Barkhor Street, and seeing devout believers in the Potala Palace square, one will be touched by the sincerity of the people's faith. Spinning prayer wheels, listening to the sounds of the city from a teahouse on a sunny afternoon, or strolling along the Lhasa River make it impossible not to fall in love with Lhasa.