A Mystical Metropolis on the Snowy Plateau
China Today,October 25, 2017

Adjust font size:

A "Heavenly Road" on the Plateau

Lhasa is on the Qinghai-Tibet Plateau – the world's highest. Owing to its remote location and consequently difficult logistics, local residents were until recent times firmly entrenched in the region's autarkic manorial economy. In 1949 Tibet had just one one-km-long surfaced road. American travel writer Paul Theroux wrote in his book Sailing Through China: "The Kunlun Mountains preclude any railway to Lhasa."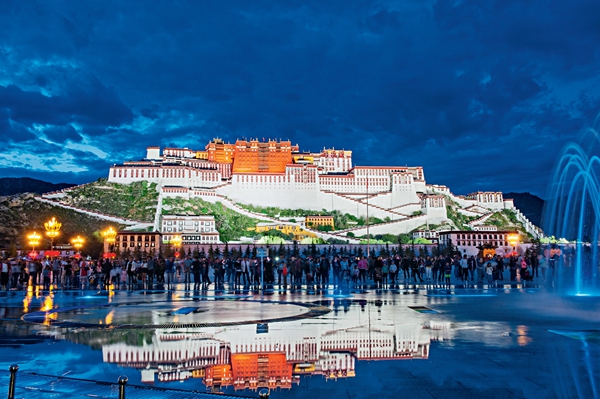 Night scene of the Potala Palace.
In the 1950s, the central government nevertheless decided to build a railway to Lhasa. In 1956, the Ministry of Railways carried out a comprehensive survey of Tibet to work out the planning and design for this task. After decades of research and debates, in June 2001, the railway connecting Golmud in Qinghai to Lhasa started construction. Its main obstacles were permafrost, a cold and anoxic environment, and fragile ecology. Having overcome all three, in July 2006 the railway started operation.
The Qinghai-Tibet Railway, with a total length of 1,956 kilometers, is the first railway to Lhasa and the world's highest, which is why it is known as the "Heavenly Road." The railway goes through the Hoh Xil, Sanjiangyuan, Qiangtang and other national nature reserves. To protect the plateau's blue skies, clear lakes, and wildlife, the State Environmental Protection Administration, Ministry of Land and Resources, and Ministry of Railways formed a joint expert group on preserving the ecological environment.
After in-depth research, the team formulated specific environmental protection measures. To protect the living environment of wildlife such as the Tibetan antelope, the railway established 33 wildlife channels, and to preserve wetlands it constructed the first man-made wetland in the alpine region. In efforts to protect the landscape, achieve zero emissions, and improve the ecological environment along the railway, it also built a green corridor that stretches for hundreds of kilometers. These unique environmental designs, construction and operation concepts render the Qinghai-Tibet Railway China's first "green railway."
There are other choices of transport to Tibet in addition to the railway, notably by road. China National Geography magazine called the Sichuan-Tibet Highway one of the best sightseeing routes in China. It provides a breathtakingly beautiful, ever-changing landscape from the Chengdu Plain to the Qinghai-Tibet Plateau, and the chance to experience four seasons in one day. People walk, ride and drive along this road.