Pearl of the Ancient Silk Road
CHINA TODAY,September 04, 2017

Adjust font size:

Ancient Silk Road

AS the capital of Xinjiang Uygur Autonomous Region, Urumqi is its political, economic and cultural center, and an important portal of China's opening-up. Historically, it was of strategic importance on the new northern branch of the ancient Silk Road as a site of exchanges between Eastern and Western cultures. Today, as a core region of the Silk Road Economic Belt, Urumqi has become an open and inclusive city of cultural diversity.

Surrounded by hills and girdled by waters, Urumqi owns vast fertile land. The ancient Urumqi River flows through the city from south to north, and the graduating ridges and peaks of the grand Tianshan Mountains span the southern end the city. Mount Bogda is snowcapped all year round. Crystal clear Tianchi Lake on the mountainside is a famous resort.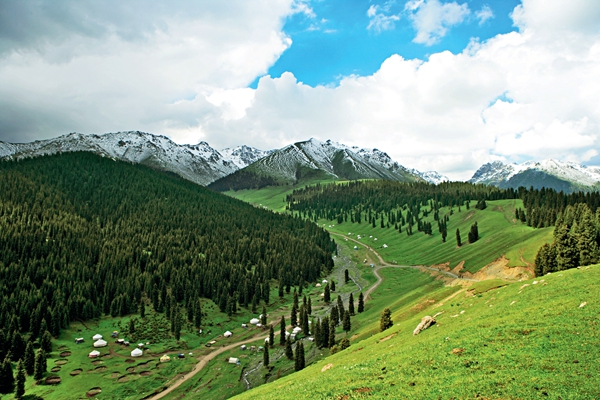 Nanshan Natural Scenic Area in Urumqi.
Han, Uygur, Kazak, Hui and Mongolian are among the 47 ethnic groups resident in the city. Various cultures, arts and customs have shaped the city through its associations with historical figures and cultural heritage. Urumqi's colorful scenery of distinct costumes and vibrant cultural activities, along with its hospitable people, attract visitors from the rest of China and beyond.