Renewable Energy Vital for China's Green Development
CHINA TODAY,September 04, 2017

Adjust font size:

FROM June 17 to 23, 2017, Qinghai Province powered the entire province by renewable energy for 168 hours non-stop, breaking Portugal's record of 107 hours last year. A great step for China's ongoing transition to clean energy, the achievement will surely boost the consumption of renewable energy and enhance further development in this regard. China's clean energy push is among the key projects to implement its five major concepts of development: innovation, coordination, green development, opening-up, and sharing benefits.

Innovation Leads the Way

A few days later in Dalian, Chairman of State Grid Corporation of China (SGCC) Shu Yinbiao revealed at the 11th Annual Meeting of the New Champions (also known as Summer Davos Forum) that the company's technology on balancing the fluctuation of the contribution from renewable energy effectively guaranteed the latest endeavor in Qinghai.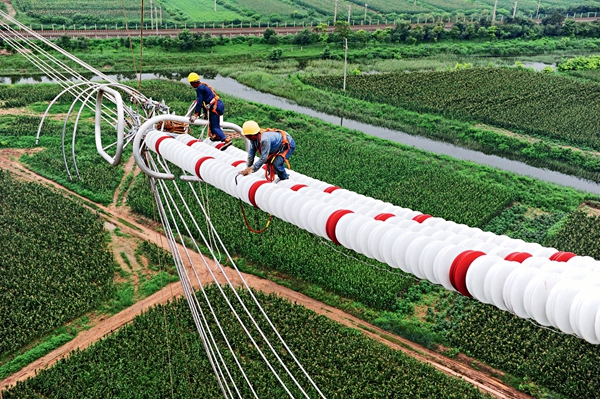 Workers construct a UHV power transmission line stretching from western Inner Mongolia Autonomous Region to southern Tianjin, in January 2015.
One of the Fortune 500 enterprises and the world's largest public utility company, SGCC attaches significant importance on developing new technologies in its participation in energy transition.
With an abundance of coal mines, China heavily relies on thermal power which generates over 70 percent of the nation's electricity. However, environmental problems brought about by fossil fuel can no longer be overlooked. Besides, non-renewable energy hardly meets the demands of sustainable development. Aiming at shifting the country's energy mix and enhancing green development, SGCC has been striving to create innovative technologies and achievements have been made in areas such as ultra-high-voltage (UHV) transmission and smart grids.
UHV transmission technology, with complete independent intellectual property rights owned by SGCC, is the world's most advanced transmission technology to transmit electrical power across long distances with the highest voltage and the lowest loss. For instance, in China, hydropower can be transmitted through this technology from the southwestern region, where there are energy load centers but energy consumption is less, to the more densely populated eastern part to reduce the consumption of coal. In addition to boosting energy transformation and optimizing the energy mix at home, the UHV transmission technology has been exported to play a fundamental role in building up a global energy network.
Like China, Brazil's energy consumption centers are far from where the resources are located. The Amazon region in the north boasts abundant water resources. Nevertheless, consumption centers like Sao Paulo and Rio de Janeiro are more than 2,000 kilometers away in the south. UHV transmission technology turns out to be an ideal choice in this case. Today, UHV transmission projects jointly built by SGCC and its Brazilian counterparts in the Amazon basin are under construction and are expected to greatly power the development of energy-hungry southern areas. In addition, Shu Yinbiao evinced SGCC's interest in taking part in facilitating the use of solar energy from the Sahara Desert. In the near future, UHV transmission technology will help supply Europe with electricity from renewable sources in the Sahara, where the potential for solar power is seemingly limitless.
Technology innovation not only leads the way of establishing a clean energy grid, but also in the field of circular economy. Making traditional distilled Chinese white liquor usually requires a lot of energy, which causes pollution. Technologically supported by China Energy Conservation and Environmental Protection Group (CECEP), China's leading liquor producer Kwei-chow Moutai Group built a recycling industrial park in a move to reuse residues from its manufacturing process. According to Liu Dashan, chairman of CECEP, residues are developed as methane and organic fertilizer in this park. The former may supply power to the liquor plant while the latter can be used to grow sorghum – the main ingredient of Moutai, shaping a circular recycling system.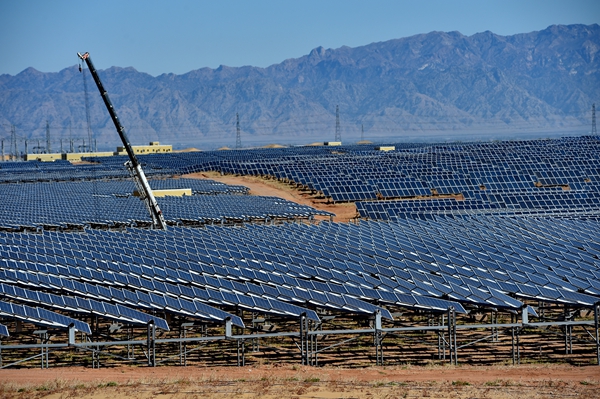 Solar power technology is used in the Kubuqi Desert in Inner Mongolia Autonomous Region to form a circular economy as a means to alleviate poverty. Yu Xiangjun
In recent years, clean technologies have been progressing rapidly in China where sustainable development is set as a priority. Outdated capacities such as iron and steel, coal power, and cement are being phased out to combat environmental pollution. By 2018, the Beijing-Tianjin-Hebei area is projected to entirely replace coal with electricity for heating purposes. While benefitting local residents with less expensive energy and a self-controlled heating system, this measure is expected to curb prolonged haze pollution in the region.
On top of that, China has initiated clean water programs including wastewater treatment, water reclamation, and building sponge cities. Moreover, the market share of new energy vehicles is expanding all over the country. In view of that,"SGCC has developed a smart electric vehicle (EV) platform – the world's largest of its kind so far – to which 160,000 charging stations and more than one million EVs across China have been connected," said Shu Yinbiao.
New technologies are constantly coming out on China's way to green development. Chairman and CEO of Johnson Controls Alex Molinaroli attributed the achievements China has made to innovation, cooperation, and sharing."China is moving from an importer of technologies to a developer of technologies for the rest of the world," he asserted. His opinion was shared by China's Minister of Science and Technology Wan Gang by pointing out China is leading clean technology development in the world. Wan Gang added that the country has gained valuable experience in this field to share and is open to global cooperation to learn from good practices. On the other hand, in Liu Dashan's perspective, the transition to clean energy offers advanced technologies that green development requires while extending a positive influence over industrialization and commercialization of environmental protection.