Five: The Figure to Decode China's Future
China Today,September 04, 2017

Adjust font size:

By KOU LIYAN

THOUGH I admire the story-telling skills of Dan Brown (author of The Da Vinci Code), I am not a fan of his, because I don't buy into the idea that certain codes are all we need to decipher human society and history, as complicated as they are. But I think five could be a magic number to unlock many of China's major conundrums.

There are five stars on the Chinese national flag. The public power at all levels of administrative regions is split among five organs – the CPC committee, the government, the People's Congress, the Chinese People's Political Consultative Conference and the CPC Commission for Discipline Inspection. In the Art of War, Sun Tzu stressed that generals must pore over five factors when planning for battles. What's more, it is a 2,000-year-old belief in China that the universe, including human society, is the work of five elements – metal, wood, water, fire and earth.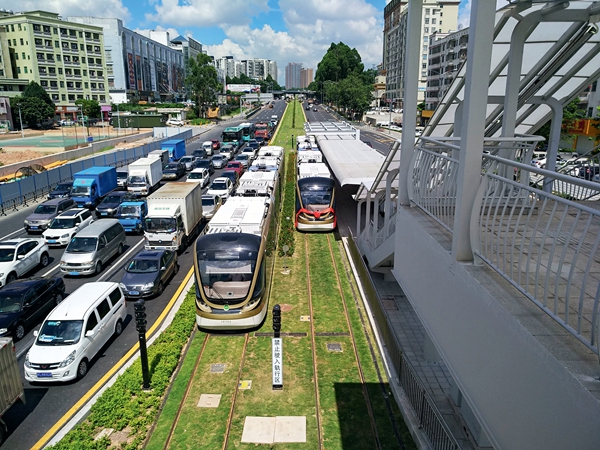 A modern tramcar line goes into service in the Longhua District of Shenzhen City on June 29, 2017.
This may sound like figure fetish as seen on a par with Pythagoras, but a closer look at the many terms and concepts with"five" in them can help us get a handle on China's future development. One of them is five-facet development.
The CPC Central Committee's Proposal on Formulating the 13th Five-Year Plan (2016-2020) on National Economic and Social Development set the goal for innovative, coordinated, green, open and shared development. This document was adopted at the Fifth Plenary Session of the 18th CPC Central Committee in October 2015. More"fives"... what a coincidence!
The five adjectives in the new development mode will define China's course in the period 2016-2020. They might seem very broad, but that's what Chinese leaders intended (the plan includes more specific targets and frameworks). Given China's size and the complex situations here, a uniform plan that goes down to the nuts and bolts doesn't work. So Chinese policymakers focus on the vision and concept, which ensures local governments pull their weight in the same direction, but allows them to adopt different measures to solve local issues in the light of their respective conditions.