Say yes to sustainable palm oil
china.org.cn/chinagate.cn,08 15, 2017

Adjust font size:

A campaign based on the theme of "Say yes to sustainable palm oil" was launched by the Roundtable on Sustainable Palm Oil (RSPO) in City Shop, Beijing, on August 10. The goal is to raise consumers' awareness of purchasing green products and adopting a sustainable lifestyle.

This campaign is an important part of the 2017 Sustainable Consumption Week. The Sustainable Consumption Week is co-organized by the United Nations Environment, the UN-China Sustainable Consumption Partnership, the China Chain Store & Franchise Association (CCFA), the World Wildlife Fund China (WWF) and the China Sustainable Retailer Roundtable. It involves a broad range of stakeholders, and aims to raise awareness about sustainable consumption, promote conscious purchasing decisions and create enabling policies for responsible consumption.

RSPO is a not-for-profit association formed in 2004 with the objective of promoting the growth and use of sustainable oil palm products through credible global standards and engagement of stakeholders. It unites stakeholders from seven sectors of the palm oil industry - oil palm growers, palm oil processors or traders, consumer goods manufacturers, retailers, banks and investors, environmental or nature conservation NGOs and social or developmental NGOs.

According to Jiang Yun, China Representative on RSPO, China is the world's second largest importer and third largest consumer of palm oil. The forecast annual growth in demand for palm oil in China is 10%; by 2020 the total demand will reach 12 million tons. RSPO attaches great importance to the influence of China's imports and exports of sustainable palm oil in transforming the global palm oil market and is committed to making RSPO-certified sustainable palm oil the norm in China.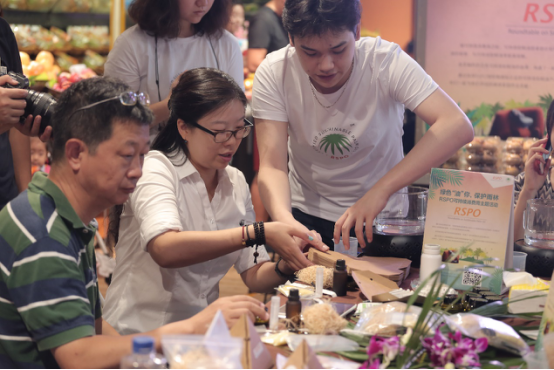 With help from an RSPO volunteer, a customer makes her own lip balm from sustainable palm oil.