China releases bike-sharing industry standards
Xinhua, July 6, 2017

Adjust font size:

A set of industry standards was released Wednesday to regulate China's bike-sharers.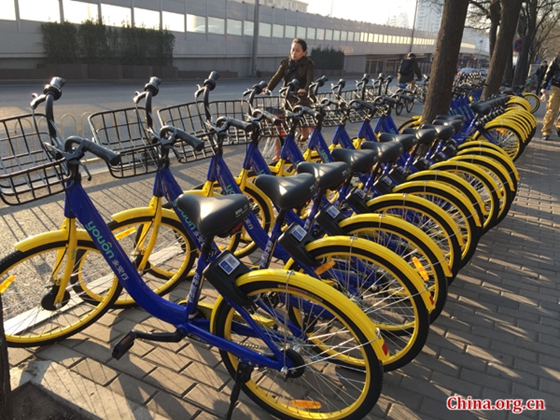 Shared bikes are seen on a street in the Haidian District, Beijing, on February 27, 2017. [Photo by Li Jingrong/China.org.cn]
Shanghai and Tianjin have drafted regulations to take effect on Oct. 1, after taking advice from bicycle manufacturers and bike-sharers.
Bike-sharing companies, including Mobike and Ofo, will adhere to standards on production, operation, and maintenance of shared bikes.
The regulations specify a service life of three years for all such bikes and demand companies hire at least one maintenance employee for every 200 bikes.
The rules also regulate management of deposits, handling of customer complaints and compensation for users.
More than 10 million shared bikes are on the streets of Chinese cities, operated by over 30 companies. Between them, Mobike and Ofo take up more than 90 percent of the market.
According to China's E-commerce Research Center, there were 18.86 million people using shared bikes at the end of last year, compared with 2.45 million in 2015.
More users mean more complaints. There have been over 2,600 complaints concerning shared bikes in Shanghai in the first four months this year, nearly nine times more than the same period in 2016, said Ning Hai, deputy secretary general of the Shanghai Consumer Council.
Return of deposits and advance payments, too many bikes on the road and haphazard parking were top of the list.
The regulations stipulate that deposits and advance payments should be returned less than seven days after a request.
Before a bike-sharing operator goes out of business, it should submit a plan to local authorities, notify its users and explain how money will be returned, said the regulations.
Business failure is not an irrelevant consideration. Eleven operators have more than one million shared bikes on the streets of Shanghai, about twice as many as the city needs, Guo said.
Shanghai Consumer Council found 37 percent of shared bikes in the city placed outside of parking areas. In accordance with the new standards, Shanghai needs 5,000 maintenance employees, far more than those already in place.
Shanghai authorities are marking parking areas on online maps to ensure orderly parking of shared bikes, according to Xu Daohang, chief engineer of the Shanghai bicycle association.