Torrential rain affects over 3.5 million people in China
Xinhua, June 27, 2017

Adjust font size: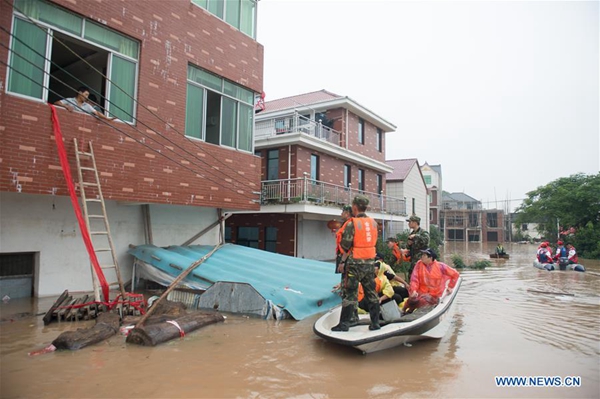 Rescuers transfer affected people in Xiangxi Township in Lanxi City, east China's Zhejiang Province, June 26, 2017. [Photo/Xinhua]
Continuous torrential rain since Thursday in parts of Anhui, Hunan, Zhejiang and Guizhou provinces affected at least 3.5 million people.
In eastern and southern Hunan, the rainstorms brought over 150 mm of rainfall in some areas in just one day, destroying more than 2,100 houses and forcing the evacuation of 163,000 people. Nearly 120 hectares of crops were damaged.
Heavy rain is forecast to continue in Hunan in the next five days.
In Guizhou, rain caused nine fatalities and left four missing. More than 57,000 people were evacuated, 12,000 houses were destroyed and 560 hectares of crops were damaged. The disaster also caused 1.3 billion yuan (about 190 million U.S. dollars) in direct economic losses.
The local civil affairs department is sending relief goods to affected areas.
In Anhui, heavy rain brought at least one fatality. More than 700 houses were destroyed and 25.8 hectares of crops were damaged.
In Zhejiang, the downpour forced the evacuation of about 150,000 people, caused direct economic losses estimated at one billion yuan. Over 40 reservoirs overflowed.