Chinese Manufacturing Sector Rides Fourth Industrial Revolution Wave
China Today, June 20, 2017

Adjust font size:

Facing the pressure of a downward global economy together with many other uncertainties, the question being asked is how a new drive for economic development can be provided. The eye-catching Fourth Industrial Revolution and "Made in China 2025" have become hot topics for the 2017 Boao Forum for Asia.

Equal Competition Among All Nations

Indeed during China's "two sessions" in March, the New York Times and the European Union Chamber of Commerce in China expressed the same concerns, worrying that the US $300 billion subsidies that "Made in China 2025" provided to 10 major domestic industries would wipe out foreign enterprises from the Chinese market.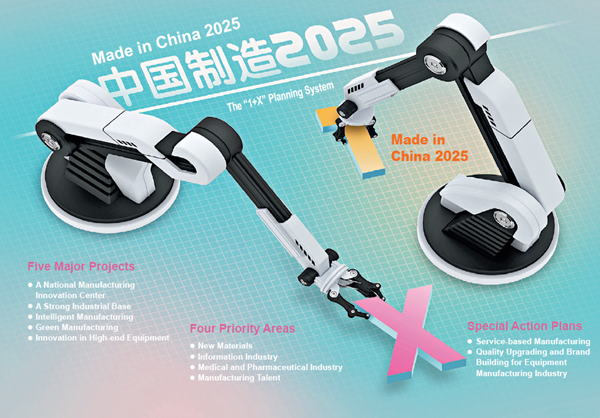 Last March, the World Economic Forum (WEF) and A.T. Kearney jointly published a white paper called "Shaping the Future of Production," the product of a wide-ranging investigation into various industries, leading research institutes, and non-governmental organizations in 25 countries.
According to the report, five major technologies – the Internet of Things, artificial intelligence (AI), advanced robotics, wearable devices, and 3D printing – will accelerate value creation. Manufacturing exerts an influential impact on the economic structure and employment at the international, regional, and national levels, and keeps a close relationship with environmental protection and sustainable development.
The white paper also noted that many nations and regions have recognized the importance of manufacturing and have launched their own plans in domestic industries. Representative strategies include the Industrial Internet Consortium established in the U.S., Germany's Industry 4.0, the EU's Factories of the Future Program, and Made in China 2025. Among them China's new plan will invest US $3 billion into the advanced manufacturing sector, and the EU's Factories of the Future Program will invest €7 billion.
"Never before has China been so close to the world's leading technologies," Li Daokui, dean of the Schwarzman College of Tsinghua University, wrote in an article.
Over the past decade, China's manufacturing has achieved remarkable progress in such fields as high-speed rail, construction equipment, telecommunications, and drones, all areas in which China has taken a firm lead. In the next five to 10 years, China is expected to make further breakthroughs in military and civilian aircraft engines and airliners.
Furthermore, the enormous size of China's market for vehicles, high-speed rail, power transmission and transformation, and power generation is projected to render the country an unprecedented advantage in the Fourth Industrial Revolution. A huge market means that China can set its own standards; and the standard setter usually takes priority in technical breakthroughs and industrialization. Also, the huge market is able to give birth to large-scale enterprises.