Protecting People from Natural Disasters
China Today, June 14, 2017 Adjust font size:
It is not easy to predict natural hazards. The situation is especially complex in China as there are many types of natural hazards occurring in places with different geographical conditions, which makes the disaster prevention and reduction efforts more difficult.
To reduce the impact of natural disasters, Chinese scholars and experts are taking action. They are studying previous natural disasters and assessing the risk. Their research results are valuable information from which the Chinese government can make informed decisions. Professor Yang Saini, from the Academy of Disaster Reduction and Emergency Management (ADREM) at Beijing Normal University, is one of them.
A Career in the Science of Disasters
Born in 1975, Yang began studying at Southeast University in Nanjing in 1993, where she completed her undergraduate degree and Masters. In 2000, she went to the University of Maryland, where she got her PhD degree. In 2006, she got a tenure-track position at Cleveland State University.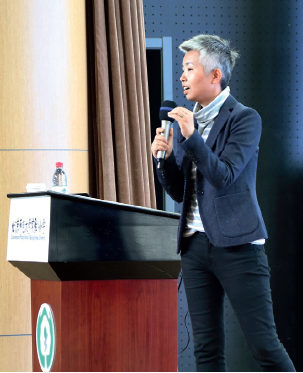 Professor Yang gives a lecture on disaster mitigation and emergency management to students and teachers at Beijing Normal University's Experimental Primary School
"My life was stable in the U.S. However, I felt I didn't want to settle into a routine," Yang recalled with a smile on her face.
In 2008, Beijing Normal University offered Yang a job and she accepted the invitation to join its National Key Laboratory of Earth Surface Processes and Resource Ecology. "I wanted to do something meaningful," she explained about how she made the decision.
Professor Yang studied bridge engineering during her undergraduate years, then traffic engineering for her Masters and civil engineering for her doctoral program. Therefore, she boasts interdisciplinary expertise.
After returning to China, Yang joined the ADREM, which focuses on scientific research into natural disasters, natural resources and global climate change, and cultivates experts in those areas. That was how Yang launched a career in the science of disasters.