China Explores New Paths to Poverty Eradication
China Today, June 13, 2017 Adjust font size:
Regional Imbalances
For the duration of the 13th Five-Year Plan period (2016-2020), the Chinese government has put the fight against poverty at the top of its agenda. It has promised to lift all Chinese people out of poverty by 2020, especially those in rural areas.
To reach this goal, the Chinese government has designed a series of measures to better identify those in need and properly register them, analyzing the reasons behind existing poverty to improve the lives of poorer people in a targeted and sustainable way.
Since Xi Jinping took office, China's poverty eradication fund has seen an annual increase, even though China's economic growth has slowed down in recent years.
In 2015 alone the Chinese government invested RMB 46.7 billion in welfare measures: the highest amount China has ever spent on poverty alleviation.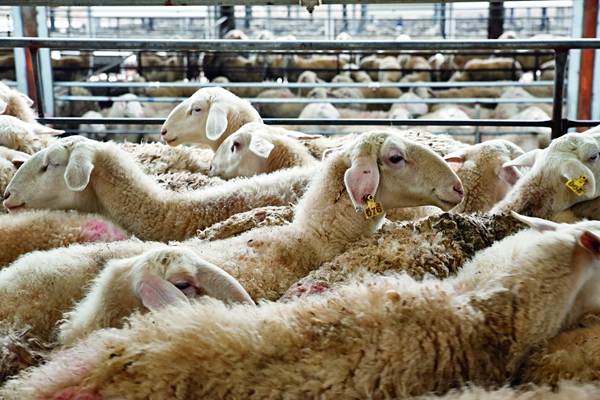 Hebei Runtao Husbandry Company helps local farmers supplement their incomes through sheep breeding.
Despite the enormous economic boom that China has experienced in recent years the country still faces many challenges in eradicating poverty. Not all Chinese citizens have been able to profit from the fruits of economic growth, and this is exactly what the country's leadership wants to change.
"In 2015, there were a total of 128,800 villages and 592 counties classed as 'poor' according to the national poverty standard," said Tan Weiping, vice director of Beijing Center for Poverty Eradication. "The problem is that we are seeing highly imbalanced development. There are huge differences, not only between the eastern regions and western and central China, but also between urban areas and the countryside. Even within bigger cities, there are vast differences in the distribution of wealth," he said.
If you look beyond the familiar horizons of China's major cities it becomes obvious just how big these differences actually are. This becomes clear when I take the high-speed train to the city of Xingtai in Hebei Province, around 400 km south of Beijing.
The concourse of Beijing Railway Station is crowded with hundreds of migrant workers carrying heavy bags. During the journey, the barren, ashen land unfolds outside the train window. Each step further away from the capital seems to turn back time. What is not commonly known is that here, just outside the gates of the huge metropolitan area which includes Beijing and Tianjin – one of the most important sites for development in China – lies one of the poorest regions in the entire country.
Hebei, a province of around 188,000 square km – roughly half the size of Germany – is home to more than 74 million people. Around 3.1 million of them (5.4 percent of the province's population) are classed as absolutely poor. Hebei has 45 poor counties. Some of the worst poverty-stricken areas can be found in Xingtai City, which is where I am going.
Xingtai has a total population of around 7.3 million people, if you take the city center and all counties under it into account. Xingtai's proximity to the metropolitan region of Beijing-Tianjin is both a blessing and a curse. Xingtai had hoped to ride the wave of development of nearby major cities; however, reality is painting a different picture.
Many workers and talented young people are capitalizing on Beijing's economic development by migrating to the capital, lured by higher salaries and better career prospects. Those who stay behind are mainly old people, women and children.
Xingtai is experiencing the knock-on effects of environmental protection measures recently implemented by the Chinese government, which limit opportunities and slow down the growth of the region's traditional industries.
How will poor regions like Xingtai ever be able to catch up with more developed regions? This task is one of the biggest challenges facing the Chinese government today.
The problem is that financial aid and government subsidies alone are not enough to change the picture in the long run; at least this is what the experiences of other countries have shown so far.
Subsidies may help temporarily but they do not give poor people control over their own lives. Nor do they encourage poverty-stricken people to act on their own initiative – for example by trying to enter university – which would not only help lift them out of poverty but also improve the lives of future generations.