Splashing, Dancing and Making Merry at the Dai Water-Sprinkling Festival
China Today, April 26, 2017

Adjust font size:

Game of Love

The Water-Sprinkling Festival is also a venue for seeking out marriage partners.

One of the matchmaking games the Dai people play is that of throwing small bags.

Dai girls carry with them love tokens in the form of small cotton bags which they have sewn, decorated with colorful fringes, and filled with cottonseed. Carrying colorful parasols, the young women form one line and the young men another, about 15 meters apart. The girls throw bags to the boys, and they throw them back. If a boy fails to catch a bag from a girl, he must place a flower in her hair. If a girl fails to catch a bag from a boy, she must insert a flower in the buttonhole of a boy's shirt. The bags fly to and fro time and again. When a boy and a girl finally take a fancy to each other, they leave and make their way to a quiet place to begin their romance.

Colorful Folk Activities

Local people prepare special dishes and various kinds of sticky rice cakes to present to guests and close friends at this grandest of Dai festivals. People from all the local Dai villages perform local dances and pay New Year's Day calls on their neighbors to wish them the best. Other cultural activities include dragonboat racing, peacock dances, and the white elephant dance.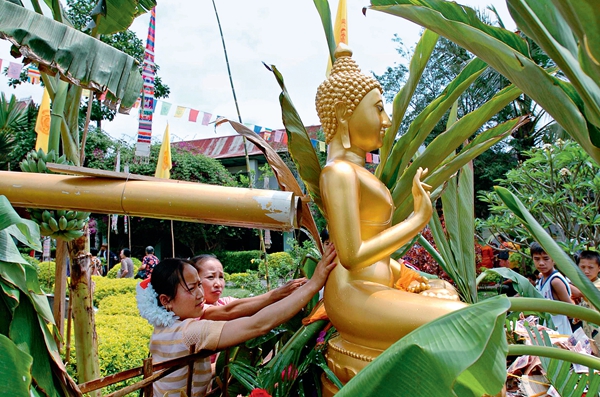 The Water-Sprinkling Festival, also known as the Buddha's Birthday Festival, is the most ceremonious traditional rite celebrated by the ethnic minorities living in Yunnan Province.
The festival highlight is the dragonboat race, which usually falls on the third day. Splendidly attired villagers gather along the banks of the Lancang River and Ruili River as dragonboats, festooned in colorful silks and manned by teams of strong rowers, await the starter's gun. They then shoot forth like arrows from a bow while the river banks resound to the throb of drumming, the clash of gongs, and rousing cheers as the festive atmosphere reaches its climax.
Setting off gaosheng, as the Dai's self-fashioned fireworks are known, is another tradition. They are made from filling the bottom end of bamboo tubes with gunpowder and other materials and attaching them with lead wire to a bamboo ladder frame. When ignited the rockets soar to the heavens and explode into dazzling brilliance. He whose gao-sheng ascends the highest wins a prize and much local acclamation.
Flying kongming lanterns is a time-honored Dai custom. People gather at evening in an open space and light the candles inside the lanterns. Aerostatic buoyancy sends them to the sky where they float like countless stars, so paying tribute to deities, sages, and men of virtue.
Dos and Don'ts
Local people welcome guests from around the world to this carnival. This year it falls on April 13 to 16. Below are a few pointers:
1. Although the festival is held throughout the entire province, customs vary slightly in different areas. For example, in Dehong Dai Autonomous Prefecture, 12 pm to 6 pm is the strictly designated time for water sprinkling.
2. Do not splash water on senior citizens, children, or pregnant women.
3. Visitors are advised to wear suitable clothing. You might catch a chill if you wear too little, while excessively thick clothing will take a long time to dry.
4. When using squirt guns or water balloons, be careful not to inflict inadvertent injuries.
5. Do not take valuables, and wrap cell phones and cameras in plastic bags.
6. Wear plenty of sun block.
(Compiled by China Today)