Foreign Investment Welcomed in China's Senior Care Market
China Today, April 26, 2017

Adjust font size:

The inexorable growth of China's aging population has made its senior care services industry a focus of social attention. Regarded by many as a "gold mine" second only to the real estate sector, the enormous potential of private senior care business is proving extremely attractive to foreign investors.

A Promising Market

Prior to retiring, Wu Zhigao, now 86, was a journalist at China National Radio. Three years ago his wife was diagnosed with Parkinson's disease, and the couple decided to move to a nursing home in Beijing. The professional and considerate care she receives there has put a smile back on his wife's face, so Wu has no regrets about this decision.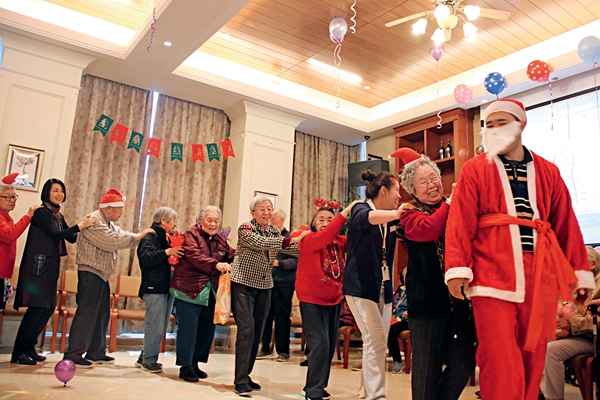 Residents at the Senior Living L'amore dance a Christmas conga. 
But he was unwilling at first. "After 55 years of marriage," he asked himself, "how can I put her there just because she has fallen ill?" The couple's son works in Shanghai and their daughter runs a company in Beijing. Neither has time to give them the care they need. At Wu's age, he no longer had the energy to be his wife's sole carer, but neither was he willing to hire one. Consequently the nursing home seemed the best option.
The new residence has a distinctly homely ambience. The rooms are hung with pictures of the couple's wedding day and of their family. Wu tells the story behind each one: "That one is a group photo with my son in the U.S. after he was awarded his master's degree, and the other is of my daughter's graduation from university. This one is of my granddaughter, and that one of the whole family at the Temple of Heaven."
The Wu couple is representative of a large number of Chinese seniors. According to the Ministry of Civil Affairs "Statistical Bulletin on the Development of Social Services in 2015," by the end of that year China's elderly population – people aged over 60 – had reached 220 million, 16.1 percent of the total population. Among them 143 million were over 65, or 10.5 percent of the total. At the same time, the steady decline in the birth rate and increased life expectancy has underlined the aging process, leading to growing demand in this sector.
At the same time, the Chinese concept of senior care has begun to change. Many parents no longer expect their children to look after them in their old age, but are instead looking to senior care institutions. A China Youth Daily survey in 2016 showed that out of 2002 respondents 64.4 percent regarded the old notion of seeking senior care from children as obsolete, while 44 percent were willing to enter retirement homes.
Data from the China National Working Commission on Aging show that the consumer demand for the senior care services market amounts to around RMB 3 trillion, and that it will reach 5 trillion by 2050. There are predictions that in 15 years this sector will replace the real estate as the country's largest industry.
At the end of 2015, there were only 6.72 million beds available in nursing homes, or 30.3 beds per thousand senior citizens. Although this is an improvement on the 2014 figure, it still falls far short of demand. In expectations of revitalizing its historical role as an industrial base, Heilongjiang Province in Northeast China aims to develop the senior care sector. The province has plans to establish 100 "migratory bird" senior care projects in ecological and tourism resource-intensive areas, and the capture of social investments has begun.