New Opportunities for China-EU Ties?
China Today by Zheng Ruolin, April 26, 2017

Adjust font size:

The nature of China's relationship with Europe is often determined by Washington. My French friends, however, vehemently deny this. They insist that France upholds an independent foreign policy and does not allow other countries to influence its bilateral relationships. They point out that France, under the presidency of General de Gaulle, was the first large Western nation to establish formal diplomatic relations with the People's Republic of China.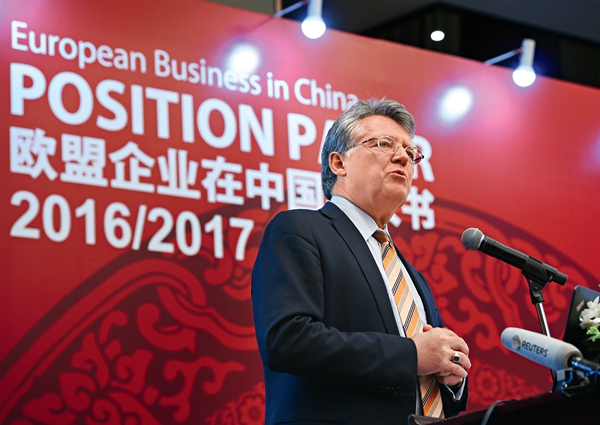 Jörg Wuttke, president of the European Union Chamber of Commerce in China, introduces European Business in China Position Paper 2016/2017 released on September 1, 2016.
While this is true, times have now changed. France today, as a member of the EU, is quite different from the country it was during the time of de Gaulle.
Take the EU arms embargo on China, for example, which has existed since 1989. Jacques Chirac, then French president, called for an end to the embargo, but a consensus was never reached by the EU due to opposition from the U.S. This somewhat hampered further progress in China-EU relations. France has been struggling with tricky diplomatic positions ever since. The new U.S. president has infused the situation with even more uncertainty.
Challenges for Europe's Relations with America
When George W. Bush was President, relations between Europe and the U.S. were rather tense. France, under the wing of Jacques Chirac, was at the forefront of opposition to the Iraq War. The anti-war speech delivered by the then French Foreign Minister Dominique de Villepin at the UN Security Council in 2003 won universal praise. Former Foreign Minister, Hubert Vedrine, accused the U.S. of oversimplifying the situation and advocating unilateralism. I interviewed Mr. Vedrine for Wen Hui Bao. At that time we were the first publication outside of France to cover the story and give a positive critique of Mr. Vedrine's left-wing remarks.
France supported Bush's rival, John Kerry, during Bush's re-election campaign. At the G8 Summit in Evian, France, shortly after the start of the Iraq War in 2003, President Chirac invited the leaders of several countries, including China, to hold an informal South-North dialogue, aimed at guarding against any provocation from the U.S. concerning the Iraq War. On the back of this, Sino-French and Sino-European ties steadily developed during the eight years of the Bush administration.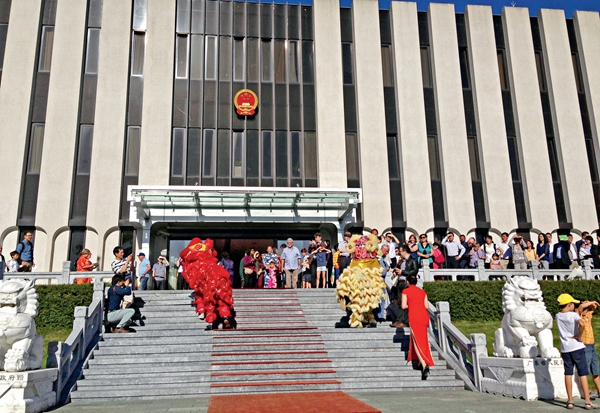 Chinese Mission to the EU holds the China Open House Day on September 10, 2016 to promote the development of bilateral ties.
The current U.S. administration seems to be going down the same road. Decrees issued by President Trump challenge long-held European values. Trump does not support the agreements made at the Paris UN Climate Change Conference, which raises serious concerns for the French government. He has also welcomed Britain's decision to leave the EU, which Europe mourns. Trump's criticisms of Germany's refugee policy run counter to the humanitarianism widely advocated in Europe. His order to deny visas to citizens of seven different Muslim countries, moreover, blatantly flouted basic Western values.
Opposition can be found in every quarter, from ordinary U.S. citizens to top officials in Europe. During his visit to Tehran last January, French Foreign Minister Jean-Marc Ayrault vowed to increase the number of visas issued to Iranians.
Notably, Minister Ayrault also criticized Trump's challenge to the one-China policy. "China is a great country," he said. "There may be disagreements with China, but we do not talk like that to a partner."
His opinion is shared by several state leaders. During a meeting with German Chancellor Angela Merkel in January, French President Francois Hollande highlighted challenges posed by the new U.S. administration regarding commercial rules and international conflict. "Of course we have to speak to Donald Trump," said Hollande, "as he was chosen by the Americans to be their President, but we must do it with a European point of view and promote our interests and values."
It seems that Europe and the U.S. now display the greatest ideological divergence since the start of the Iraq War. The two sides have completely opposing values and conflicting stances on such issues as globalization, free trade, climate change, diplomatic relations with Russia, illegal immigrants and refugees.