Jumbo Jet Collaborative Innovation
China Today, April 26, 2017

Adjust font size:

China has patented its first commercial passenger jet, the C919. On-board systems have been installed and static and integrated system tests have been satisfactorily carried out. Two taxi tests were completed on February 28 and March 1. The C919 is expected to make its maiden flight later this year.

The C919, designed by the Commercial Aircraft Corporation of China Ltd., is a commercial aircraft for medium and short haul flights. The production of the C919 signifies that China has joined the small group of countries capable of manufacturing commercial aircrafts outside the United States and Europe. After 10 years of development, China's "jumbo jet dream" has finally come true. This development process was deeply rooted in international technology exchange. China has moved from being a subcontractor manufacturing components to a key player capable of independently designing and producing airplanes, thereby changing its role in the global aviation industry and gradually acquiring core technology.

Collaborative Innovation in Core Technology

The C919 project was finally approved 10 years ago, but China has actually been dreaming of making large airplanes for the last 46 years.

China developed its first large passenger aircraft, the Y-10, in 1970. It had its maiden voyage in 1980, but the project was canceled in 1985. At that time, China's weak industrial base and poor technology could not guarantee the safety of the aircraft. As a result, the Y-10 was never commercially produced.

In early 2007, China set itself the goal of making its own passenger planes to catch up with the two major aviation giants dominating the market – Boeing in the U.S. and Airbus in Europe. The Commercial Aircraft Corporation of China Ltd. (COMAC), founded in May 2008, is a major part of the nation's large jet program. The necessary breakthroughs in technology and equipment manufacturing, however, could not be achieved overnight. COMAC created the Chinese jumbo model in a process of continuous development and technological exploration, restructuring the industry.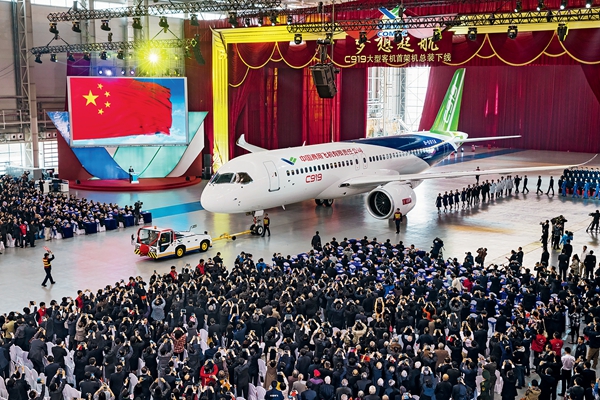 China's first homegrown large passenger aircraft C919 rolls off the assembly line in Shanghai on November 2, 2015.
COMAC owns the C919 patent, according to Chen Yingchun, vice chief designer of the C919. Key processes like design, final assembly, test flights and sales were all carried out with COMAC at the core. China independently designed and tested the aerodynamic configuration, also overseeing aircraft design, performance tests, parts manufacturing and system integration: C919 is literally "Made in China."
Wings are not only the major load-bearers of the overall structure, but also the most difficult components to manufacture. With newly developed Chinese supercritical airfoil technology, the C919 maintains performance levels even with two meters of upturn in the static test. The fuel consumption of large passenger jets is enormous. In order to achieve fuel-efficiency, supercritical airfoil technology was employed, increasing aerodynamic efficiency by 20 percent and reducing drag by 8 percent.