Expanding ofo confident of rolling into profit
China Daily, April 13, 2017

Adjust font size:

With profitability appearing achievable last year, ofo Inc is planning a simultaneous expansion at home as well as overseas markets this year, said Dai Wei, the bike-sharing startup's founder and CEO.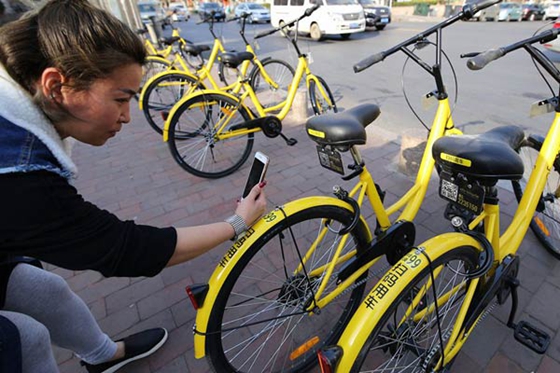 A rider in Qingdao, Shandong province, scans bar code for riding an ofo bike. [Photo/China Daily] 
Ofo's iconic yellow bikes will be available for rental in 200 Chinese cities and 10 foreign markets by the year-end, Dai, 27, said in an email.
That would signify a major scaling up of operations since ofo has been operating in only 43 Chinese cities and three foreign markets-the United States, the United Kingdom and Singapore-so far.
The startup's 2.5 million bikes out in various markets make it one of the leading players after Mobike.
Profit appears possible in 2017, Dai said, as "ofo was very close to making a profit last year".
Free-rides now offered by Chinese bike-sharing companies to attract new riders, only delay profits. Such free bicycle rides can't be compared with the cash-burning subsidy wars waged by taxi-hailing apps such as Didi Chuxing and Uber last year, he said.
In China alone, intense competition followed the emergence of 29 bicycle-sharing service providers that put 3 million bikes on streets. According to the China Bicycle Association, the figure will reach 20 million in China this year as the concept of sharing economy becomes increasingly popular.
Industry analysts said more and more Chinese bike-sharing service providers will likely go global.
In March, Mobike followed ofo into the Singapore market, its first foray overseas. The two players charge just half a Singaporean dollar (36 cents) for each ride.
"Important factors that determine outbound destinations (for business expansion) are the (local) government's stance, regulatory environment, and local riding behaviors," Dai said.
The bike-sharing service entails high operating costs, he said.
Ofo started off on college campuses in 2014. It received funding from Didi Chuxing and Lei Jun, founder of gadget maker Xiaomi. The latest round of funding raised $450 million, valuing ofo at over $1 billion.