Comparing China-US military spending: apples and oranges?
china.org.cn / chinagate.cn by Jon Taylor, March 17, 2017

Adjust font size: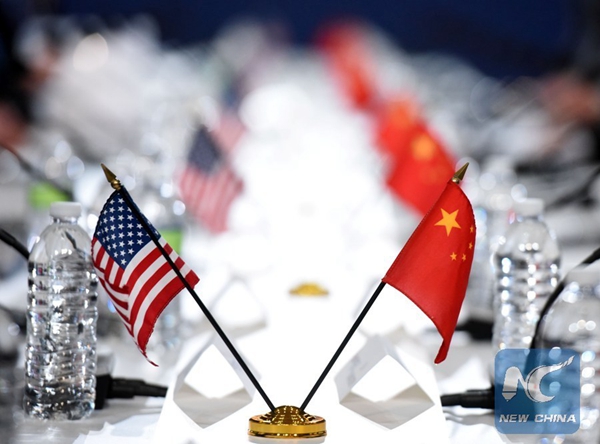 File photo taken on Nov. 23, 2016 shows the national flags of the United States and China during the 27th Session of the China-U.S. Joint Commission on Commerce and Trade (JCCT) in Washington D.C., capital of the United States. (Xinhua/Yin Bogu)
In the run-up to the opening of this year's National People's Congress, the session's spokeswoman Fu Ying announced China's defense spending for this year would rise about 7 percent - representing the slowest pace for year-on-year defense spending growth since 2010.
At roughly 7 percent, it is lower than the 7.6 percent increase in 2016 and is the slowest increase since a 7.3 percent rise in 2010. The decline in growth represents the second year in a row that the growth has been kept below the two decades-old 10 percent annual spending average. In fact, the budgeting increase corresponds with a broader trend in the country's economy and represents the slowest pace in defense spending since at least 1991.
Premier Li Keqiang's Government Work Report to the National People's Congress outlined the broader economic course for China in the coming year, including a lower GDP growth target of 6.5 percent. While defense spending will still increase, the rate will fall consistent with the country's broader expectations for slower overall economic growth.
All this is in sharp contrast with the recently unveiled proposal by President Donald Trump, who seeks to increase his defense budget - already the largest in the world in absolute terms - by $84 billion or 9 percent.
While much has been made of the military budget that saw China pass the trillion-yuan mark for spending for the first time, a 7 percent increase in this year's budget to 1.044 trillion yuan (from last year's 954.4 billion yuan) is the equivalent of $151 billion, less than one-third the U.S. military budget for 2016.
Granted, China does have the world's second-largest military budget, but this is appropriate given that it also has the world's second-largest economy, the largest population, the third largest territory, the longest land borders, and the largest number of neighbors.
Simply put, the growth in Chinese military spending is based on its own political requirements, security considerations, and economic development. While China will soon match and surpass the U.S. in real GDP (not per capita), why shouldn't China be able to act as a major power and spend accordingly?
Much of the increase during the past two decades has come primarily from longstanding efforts to modernize China's military, not to necessarily counter the United States. China has no intention of matching American defense spending. And yet, China's announcement of the 2017 increase was immediately seized on by hawks in the West, particularly among the "China Collapse" theorists turned "China Threat" alarmists in the U.S., as a sign that China is engaged in an arms race, is aggressively seeking regional or global hegemony, and is preparing for war against the U.S.
But, putting it in perspective, the U.S. spent approximately 3.5 percent of its GDP on defense in 2016, with a nominal expenditure almost two times higher than China's figure. Even when considering any comparative discrepancies that may be the result of ancillary and/or off-budget expenditures, China would still have to spend a great deal more in order to match the U.S.
It is also important to note that the United States maintains a global military presence while China does not since its primary focus is on its defense interests in the Asia-Pacific region. In fact, it should be noted that due to its global presence, U.S. military spending is more than the next 13 countries combined on a smaller GDP.
One could argue the U.S. cannot afford to maintain a global military presence or this level of military spending - nor should it in a multi-polar world.
China and the U.S., like every nation, budget according to their national strategic objectives - not to outspend another country. Annual increases in China's defense budget are roughly consistent with its GDP growth and constitute a declining percentage of the nation's expenditures.
This suggests that, while investment in military modernization is important, economic development remains a higher priority for China. While its slower growth rate in defense spending for 2017 underscores the nation's economic realities, it also highlights China's concern about sending signals that will reassure both the U.S. and China's neighbors.
China's spending increases have corresponded with its military procurement programs that are aimed at defending the nation's security interests as well as modernizing and reforming the military.
China's spending increases have also corresponded with the much greater role that the country plays in contributing to global governance through regional and international security, UN peacekeeping operations, anti-piracy efforts, humanitarian assistance, and disaster relief.
Dr. Jon R. Taylor is a Professor of Political Science and Chair of the Department of Political Science at the University of St. Thomas in Houston.
Opinion articles reflect the views of their authors, not necessarily those of China.org.cn.