Dragon and elephant can dance together
china.org.cn / chinagate.cn by Niranjan Sahoo, March 17, 2017

Adjust font size: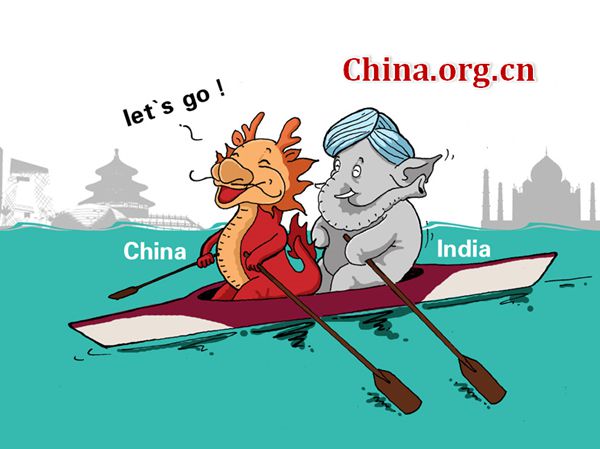 India and China: Partners, not adversaries[By Zhai Haijun/China.org.cn]
Recently a group of scholars from two prominent conservative think tanks, the Hudson Institute and the New Delhi-based Vivekananda International Foundation (VIF) voiced their support for cooperation between India, the United States and Japan to deter Chinese assertiveness in the Asia-Pacific region. While these are the opinions of two private think tanks and do not reflect the official policies of the concerned countries, such opinion nonetheless merits serious scrutiny and strong rebuke. Of course, this is not the first time that such an opinion has been expressed by scholars affiliated to private think tanks with an intention to drive a wedge between two big Asian neighbors.
It must be recalled that following the suggestions of a section of intelligentsia from Japan, Australia and the United States in 2007, Shinzo Abe, then prime minister of Japan, proposed to set up a Quadrilateral Security Dialogue (QSD) between Asian and Pacific maritime democracies - Australia, India, Japan, and the United States - to contain China's rising influence. While the QSD gathered plenty of interest and curiosity by all concerned in its initial period, it never really took off in the manner its planners were hoping for. At best, the idea has been restricted to an annual naval exercise. In fact, the then Australian Prime Minister Kevin Rudd, who vigorously backed the idea, was the first leader to pull out of the QSD. Subsequently, other principal parties like India and the U.S. found the idea too impractical and dangerous as it would mean forming a hostile axis around a major regional power.
However, the same failed concept was brought back to life last year when Admiral Harry Harris, commander of U.S. Pacific Command, called on the leadership of India, Japan and Australia to rework the idea of quadrilateral dialogue with the U.S. Admiral Harris's obvious plan for such a quad was to checkmate China over its ongoing maritime pursuits in the South China Sea. While this undiplomatic calling from a high ranking military personnel brought the usual mob of security experts and analysts from the respective countries to revive the ghost of QSD, the quad concept once again found no serious takers. Therefore, the recent exhortation by a group of scholars should not be taken too seriously.
Of course, the quad concept should be seen in the larger game plan of the West, and particularly of the U.S., to create more security actors in the Asia-Pacific to maintain its regional hegemony. This was clearly visualized during the Obama Administration's failed Asia Pivot project, which had the singular purpose of containing China's rising influence in Asia. While plenty of people from India's policy circle lobby for India to join the geopolitical game, India's long tradition to maintain its strategic autonomy in foreign relations has prevented the country from endorsing such an alliance. While there has been occasional wavering, on the whole India has been able to resist the temptation of walking into a strategic trap. The West is clearly interested in using India as a swing state to deter Chinese dominance in the Asia-Pacific.
While there are some serious sore points between the two neighbors, the leadership of both countries sees no reason to close the channels of communication and cooperation. Such an approach was clearly displayed recently at the Strategic Dialogue when both countries decided to pay serious attention to the other's sensitivity.
To conclude, way back in 2008, then Indian Prime Minister Manmohan Singh had famously remarked that "there is enough space for both India and China to grow and prosper while strengthening our cooperative engagement." To which Zhang Yan, the then Chinese ambassador to India, famously quipped "dragon and elephant can dance together towards common peace and prosperity." Of course, it would be naive to say that there exists no competition between the two large economies. But competition and geopolitical rivalries can co-exist with cooperation and mutual respect.
Niranjan Sahoo is Senior Fellow, Observer Research Foundation, New Delhi.
Opinion articles reflect the views of their authors, not necessarily those of China.org.cn.