China-US maritime relations and Freedom of Navigation
china.org.cn / chinagate.cn by Jon Taylor, March 15, 2017

Adjust font size: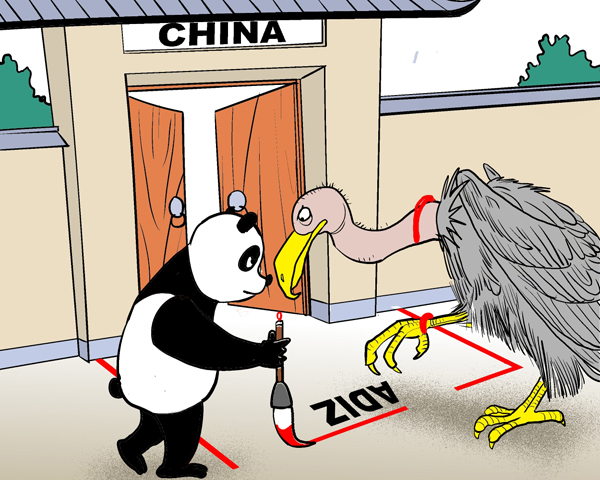 The vultures are circling [By Jiao Haiyang / China.org.cn]
Recently, the U.S. Department of Defense released its "Freedom of Navigation (FON) Report for Fiscal Year 2016," which provides a summary of what the U.S. characterizes as excessive maritime claims by a wide variety of coastal states, including China as well as American allies, partners, and other nations worldwide.
It summarizes the FON challenges made by U.S. forces to 22 countries between October 1, 2015 and September 30, 2016. The largest number occurred in encounters with Chinese military forces, primarily in the South China Sea.
China argues that it is not challenging the America's rights under FON, but rather its abuse of these rights in China's EEZ. China has repeatedly complained that the activities of U.S. military forces in the region are annoying and provocative, involving a threat to use force, and asked the U.S. to desist such operations.
China's complaints include active teasing of China's coastal defenses in order to provoke and observe a response, interference with ship-to-shore and submarine communications, tracking of China's nuclear submarines for potential targeting as they enter and exit their bases.
In China's view, these are not common passive intelligence collection activities that are regularly tolerated by most nations under international law, nor the appropriate use of the ocean for peaceful purposes as required by the 1982 UN Convention on the Law of the Sea (UNCLOS).
From China's perspective, its claims in the South China Sea are rooted in its understanding that the features of the South China Sea constitute territory over which it has historically held sovereign jurisdiction, with claims dating back well over 2,000 years as the first country to discover, name, explore and exploit the resources of the South China Sea islands and the first to continuously exercise sovereign powers over them.
Meanwhile, the U.S. is concerned about China's rise as a world power, as well as protecting U.S. regional alliances and the pursuit of maritime sovereignty. Hence the U.S. military is interested in pursuing FON, even when it may mean confrontation and protest by China.
China insists it is merely trying to protect legitimate ancestral rights and exercising national sovereignty in objecting to the encroachment of others, particularly as laid out in historical documents. As a great world power it is simply engaging in restorative justice by reasserting the nation's rightful historical territorial claims.
New China inherited a number of territorial disputes from the "Era of Humiliations" stretching back to the 19th century. Some have been resolved, such as the reincorporation of Hong Kong and Macao under Chinese sovereignty. Others, such as the South China Sea and the East China Sea, remain as areas of contention.
Since taking power in 2012, President Xi Jinping has pursued numerous political and economic reforms. As China continues to gain strength and grow in confidence, it has naturally assumed a higher profile in its external relations and is quickly becoming a major strategic rival to the United States. Its economic strength and growing national ambitions make competition - but not necessarily conflict - inevitable.
As China has risen, American power in the Pacific and East Asia has diminished in relative terms, threatening the foundations of the U.S.-backed Pacific order. Nowhere is this more evident than in the FON disputes in the South China Sea and the Western Pacific.
U.S. pursuit of additional FON operations this year would be a clear sign that the U.S. intends to challenge China's sovereignty rights in the South China Sea.
Hopefully, Foreign Minister Wang Yi's observation about tensions in the South China Sea being significantly declining during the past several months will remain correct as China and other parties seek conciliation and cooperation to reduce the potential for maritime conflict. Scaling back or halting U.S. FON operations in the South China Sea would be beneficial to regional stability as China and ASEAN work out a Code of Conduct (COC) that will create a binding crisis management mechanism, prevent the installation of offensive weapons, and ensure freedom of navigation.
Dr. Jon Taylor is a Professor of Political Science and Chair of the Department of Political Science at the University of St. Thomas in Houston.
Opinion articles reflect the views of their authors, not necessarily those of China.org.cn.