Asia-Pacific needs cooperation not conflict
china.org.cn / chinagate.cn by Aftab Hussain, March 14, 2017

Adjust font size: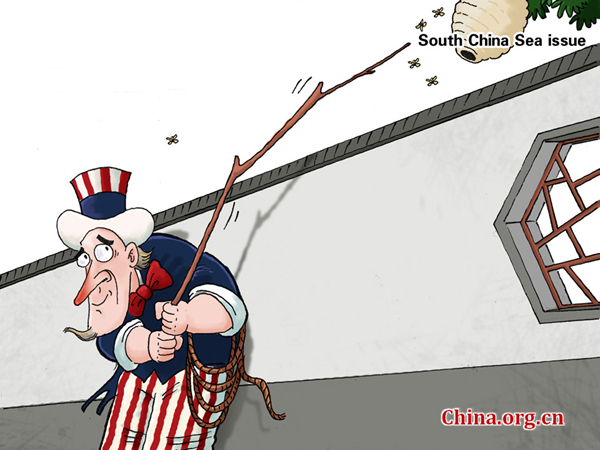 The trouble maker [By Zhai Haijun / China.org.cn]
A conference of American and Indian scholars was held in New York recently that led to a conclusion in favor of cooperation between the U.S., India and Japan as an important counter to Chinese assertiveness, determining the parameters of security in Indian Ocean and Pacific region.
Apart from Indo-U.S. cooperation in different fields, the participants discussed the need for enhancing security cooperation in East and South Asia and the Middle East.
The first important point to be considered is what is meant by talking about "Chinese assertiveness?" And what is the Chinese threat that needs to be neutralized? And, how does it affect the U.S.?
If it's about South China Sea issue, then we need to remember that the region's strategic environment has undergone a prominent change since 2011 when the U.S. decided to station troops in Darwin, northern Australia. Before 2011, the South China Sea issue was rarely heard in the news; however, a lot has happened in the past six years.
Japan, Philippines and other countries, which had been peacefully living with the issue, started to raise their voices. It seems the Americans are playing the same old card of using alliances, as was the case with former Soviet Union. The strategy is to use regional countries to defeat a rising power, in this case, using India and Japan.
What sort of cooperation are they taking into consideration which does not involve China? Surely such cooperation cannot be economic in nature, because China is already the largest trade partner of the aforementioned countries. However, if the U.S. and India are considering a security bloc, involving Japan, against China, then, instead of stabilizing the Asia-Pacific region, it will surely end in destabilization.
China is the world's second largest economy, and is also a regional military power, so that any security arrangement in Asia-Pacific region from which it is excluded will not be viewed as friendly towards China.
This leads to another important question as to whether India is able to afford such security cooperation in regions as far away as the Middle East. Will India's poverty, unemployment, underdevelopment allow it to take on such an adventure? Instead of involving itself in strategic adventures possible leading to the underdevelopment of its people, it should focus on economic development and bridging the huge gap between its "haves" and "have-nots."
However, one can see that regional strategic developments have placed India in such a position that, all of a sudden, it has become important to the U.S., as a counterforce to China. Japan, on the other hand, has remained a country focusing on its economic development since the Second World War, but now has to understand an extra-regional power is trying to manipulate its strategic geographic position for its own interests.
China's economic growth is due to the stable economic policies it has long been following. It has consistently stated it believes in peaceful and cooperative development. Beijing has realized that the age of economic development superseded that of strategic development, thus allowing it to focus on gaining economic security.
This should also be the approach of its neighbors, who should see the benefits to be gained from working with China, the world's largest market.
All the issues that exist in the Asia-Pacific region, South Asia or Middle East are a matter of concern for the countries directly involved, and should be solved through bilateral or multilateral cooperation. The countries should determine the parameters of regional security instead of imposing an imported formula from an extra-regional power.
Because the regional countries understand more about the sensitivity of issues and the strategic culture of the region, they can determine what a strategic miscalculation can cost them. American involvement for peace in Middle East, its adventures in Iraq and Afghanistan have proven that it's the last country to be consulted with when it comes to peaceful settlements.
As long as the regional countries will not stop looking for help from an external power, they will never be able to create an environment of peace and prosperity. Assigning a country to play the role of cop in the region, as the U.S. is trying to encourage India to undertake, will lead to further deterioration in the regional security situation.
Therefore, the need of the times is to look for opportunities to cooperate instead of promoting conflict. Japan and China are two growing economies of the region and an economic arrangement will not only provide opportunities for the two countries to grow but other regional countries will also benefit.
The author is a Pakistani research scholar of international relations based in Shanghai.
Opinion articles reflect the views of their authors, not necessarily those of China.org.cn.