THAAD deployment will not soothe Korean tensions
china.org.cn / chinagate.cn by Sumantra Maitra, March 11, 2017

Adjust font size: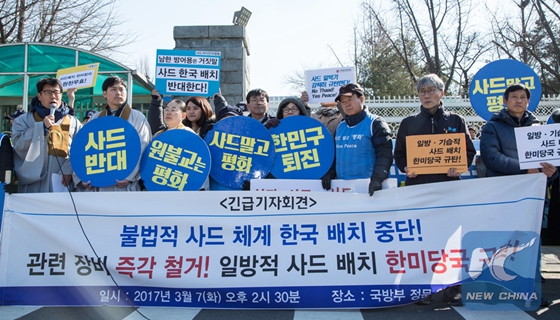 Korean protesters shout slogans during a rally to oppose the plan to deploy Terminal High Altitude Area Defense (THAAD) in front of the Defense Ministry in Seoul, South Korea, March 7, 2017. [Photo/Xinhua]
The U.S. Pacific Command on Monday began deploying the THAAD system to South Korea, which is aimed at defending the U.S. ally from a North Korean attack. The Terminal High Altitude Area Defense system, commonly known as THAAD, is supposedly positioned to assist South Korea in protecting itself from North Korean missiles.
This comes after North Korea threatened to obliterate South Korean cities in "rains of fire," conducted dozens of ballistic missile tests and vowed to advance its well-documented nuclear weapons capabilities. North Korea also fired short range ballistic missiles in protest against ongoing U.S.-South Korean military drills. The North views these drills as threats to security and as plans for invasion. The missiles with a range of about 1000 km flew and landed in waters that Japan claims as its exclusive economic zone, according to South Korean and Japanese officials.
The THAAD is, however, rubbing China and Russia the wrong way. The protest from the Chinese side has been vehement. After stating that China would resolutely defend its interests in the Korean Peninsula and region, Chinese foreign ministry spokesman Geng Shuang told reporters in Beijing that China remains firmly opposed to the deployment and would continue to take measures accordingly.
"China will resolutely take necessary measures to defend our own security interests. All consequences entailed from this will be borne by the U.S. and the ROK," he was quoted to say by NDTV, India. Simultaneously, China's Global Times also published an op-ed which was critical of North Korea. "By firing four missiles at once this time, the military confrontation between Pyongyang, Seoul and Washington escalates a notch," the paper was quoted to say, "Noticeably, the Chinese public is angry that Pyongyang's nuclear program has provided an excuse for Seoul to deploy THAAD."
THAAD is not an offensive weapon. It doesn't carry a warhead. It is meant for high altitude destruction of enemy missiles. It is different from conventional defense missiles, which are supposed to self-detonate in proximity of a hostile missile. Instead, THAAD uses infrared homing, and hits the incoming hostile missile head on.
It is used as an old fashioned arrow with its missile tip and velocity combining to form the weapon. Why is China and Russia uneasy about THAAD?
The reason is its advanced radars. The radars of THAAD are some of the most advanced in the field and covers a huge area of surveillance, which gives an advantage to the United States in an (highly unlikely) event of a great power war in the Pacific. The U.S. already has radars based in Japan and Guam, and this installation in South Korea marks a change in the regional balance of power.
The THAAD is also unlikely to be useful against low and short range North Korean missiles, and it is essentially a high altitude defense, and is primarily aimed at long range ballistic missiles with MIRVs. The deployment, therefore, is less of a military statement than a geopolitical statement.
This is where the concern is. On one hand, the U.S. is a great power, and therefore it is their prerogative to come and be treaty bound if junior allies feel threatened -- in this case South Korea.
However, this is a different situation. Even with the North's growing missile ranges and capabilities, it is far less likely to invade and attack or use those capabilities fully and functionally in an event of war. Not to mention, it would be foolish for North Korea to even go to war, and risk being eliminated from a massive retaliation.
What the THAAD deployment does, however, is destabilizing the delicate and fragile balance of power in the region. If it invites any sort of asymmetric retaliation from China or Russia, and exacerbates the insecurity of the region, it is to be expected.
Sumantra Maitra is a columnist with China.org.cn. For more information please visit:
http://www.china.org.cn/opinion/SumantraMaitra.htm
Opinion articles reflect the views of their authors only, not necessarily those of China.org.cn.