S. Korean President Park Geun-hye removed from office
china.org.cn / chinagate.cn, March 11, 2017

Adjust font size:

South Korean President Park Geun-hye was permanently removed from office, the Xinhua News Agency reported Friday.

The constitutional court upheld the motion to impeach the scandal-hit leader. The ruling was the unanimous decision of eight justices, said the court's acting chief justice Lee Jung-mi.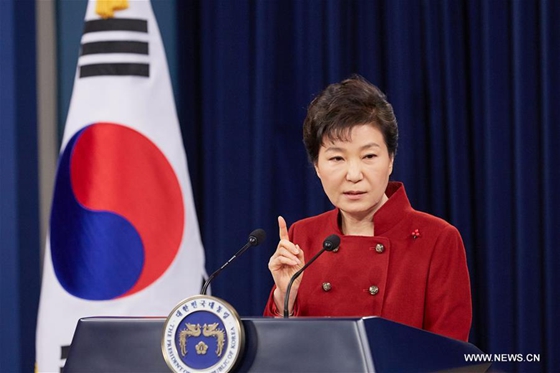 South Korean President Park Geun-hye addresses to the nation at the Presidential Blue House in Seoul, South Korea, Jan. 13, 2016. [Photo/Xinhua]
By law, Park will be required to leave the presidential Blue House as she officially lost all of presidential power and her title as incumbent president.
The bill to impeach Park was passed in the National Assembly on Dec. 9 by an overwhelming majority. A total of 20 hearings had been held since Feb. 27.
Park took office as the 18th president four years ago, after winning over a majority of vote in the 2012 presidential election.
In her early presidency, Park was seen as an unassailable icon among conservative voters as she reminded them of her father Park Chung-hee, an assassinated military strongman who was worshipped by right-leaning voters as a leader who sped up industrialization.
The image was broken apart after the corruption scandal embroiling Park and her longtime confidante Choi Soon-sil emerged in October last year.
Park allowed Choi, a private citizen having no public position, to meddle in state affairs from the shadow and influence the appointment of government officials for personal gains.
Lee Jae-yong, the heir apparent of Samsung Group, the country's largest family-controlled conglomerate, has been taken into custody since Feb. 17. He is suspected of paying tens of millions of U.S. dollars in bribes to Choi in exchange for getting support in the controversial merger in 2015 of two Samsung affiliate to create a de-facto holding company.