Lionel Leong: Macao is an active player in B&R Initiative
china.org.cn / chinagate.cn by He Shan, March 9, 2017

Adjust font size: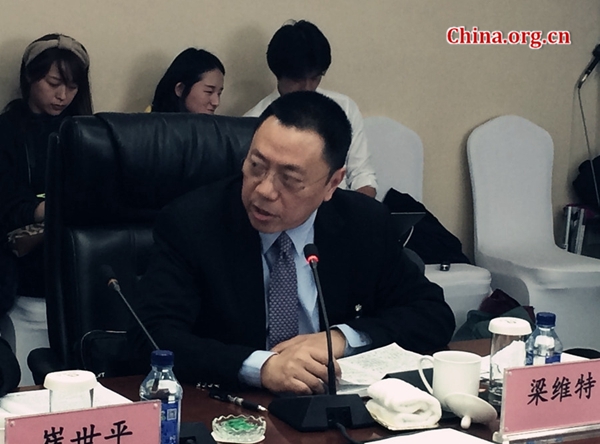 Lionel Leong, an NPC deputy and Macao's secretary of economy and finance [Photo/China.org.cn] 
Speaking on the sidelines of the ongoing annual session of the National People's Congress in Beijing, Lionel Leong, an NPC deputy and Macao's secretary of economy and finance, said Macao should make good use of its close ties with Portugal and Portuguese-speaking countries (PSCs) in line with its efforts to promote the Belt and Road Initiative.
The deputy said Portugal and East Timor are two pivots on the Belt and Road, but he advised that the initiative not be confined to countries along the Belt and Road, but expanded as long as it helps China "go out" and "bring in."
Most notably, Macao has greatly enhanced its role as a major platform to facilitate economic and trade cooperation between China and PSCs.
In recent years, Macao has been promoting construction of three centers-- a business and trade service center for small and medium-sized enterprises, a distribution center for food products from PSCs and a convention and exhibition center for economic and trade cooperation between China and PSCs.
To take part in the Belt and Road Initiative, Leong suggested that Macao integrate these efforts with the Mainland-Macao Closer Economic Partnership Arrangement (CEPA). The CEPA free trade agreement, which was signed in 2003, covers three areas: trade in goods, trade in services, trade and investment facilitation. The agreement has greatly boosted economic integration and mutual development of the Chinese mainland and Macao since it took effect in 2004.
For example, he said, products imported from Portugal to Macao can be processed according to the CEPA stipulations. After that, those products can enter the Chinese mainland without tariffs.
Leong said Macao should consider how to leverage different policies to let them have a synergy effect instead of relying on a single policy.
"Of course, that needs support from the central government and requires business players to abandon an outdated mindset," he said.
Leong singled out special finance, especially finance leasing, which Macao is currently heavily promoting, as a new vehicle for building of the Belt and Road.
Macao holds the International Infrastructure Investment and Construction Summit Forum each year, attracting many participants from countries along the Belt and Road, including high-ranking officials.
He expressed optimism on the unique role of the forum in the financing market to provide financial platforms and services for countries along the Belt and Road and help Chinese enterprises enter the markets of Portuguese-speaking countries.
"With the platform, we bring companies, governments and investors together," he added. "That means we provide a financing platform."
Leong went on to elaborate Macao's advantages: The central government has pledged to support Macao with the establishment of an RMB clearing center; Macao is free of currency control and has a smooth flow of capital; Macao has much lower financing costs than the Chinese mainland.
In recent years, conferences of varying scales have been held in Macao, bringing growing revenues to the coffer of the local government.
Leong said that although the global economy is rather weak, China still maintains good growth momentum, as evidenced by one fact that Chinese companies, both large and small, hold various international meetings each year, such as promotional meetings.
"That is a big market awaiting Macao to explore," he concluded.
Macao is home to a large number of overseas Chinese nationals who have returned from more than 60 countries and regions.
Leong said it is a large network that Macao can tap into to expand cultural and people-to-people exchanges, which is conductive to the building of the Belt and Road Initiative.