Globalization and China-US relations
china.org.cn / chinagate.cn by Jon Taylor, March 8, 2017

Adjust font size: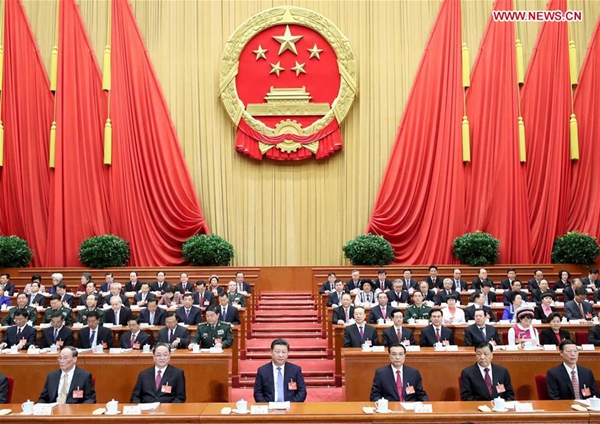 Top Communist Party of China and state leaders Xi Jinping (3rd L, front), Li Keqiang (3rd R, front), Yu Zhengsheng (2nd L, front), Liu Yunshan (2nd R, front), Wang Qishan (1st L, front) and Zhang Gaoli (1st R, front) attend the opening meeting of the fifth session of the 12th National People's Congress at the Great Hall of the People in Beijing, capital of China, March 5, 2017. (Xinhua/Lan Hongguang)
Currently, the National People's Congress (NPC) and the Chinese People's Political Consultative Conference (CPPCC), commonly called the "two sessions" are holding their annual meetings. These meetings provide an opportunity for China's leadership to discuss a variety of issues of great importance to the nation and the world.
While top priorities for 2017 include topics such as furthering and deepening supply-side reform, reducing income inequality, ensuring economic stability, cutting pollution, keeping house prices under control, maintaining the RMB's value, and combating corruption, the issue of promoting economic globalization at a time when the U.S. and Britain appear to be retreating into protectionism and isolation, will be on the minds of many.
This is a moment for China to create policies that will continue to promote reforms at home while further opening its economy to the outside world. These policies will have an impact not only on China's economic and geopolitical interests, but also on its relationship with the rest of the world.
There is arguably no more important international relationship right now than the one between China and the U.S. Whether the focus is on the global economy, security, or environmental concerns, what transpires between these two nations has global implications.
With the U.S. seemingly moving towards protectionist policies such as U.S. President Donald Trump's executive order to withdraw from the Trans-Pacific Partnership (TPP), it falls to China to advance its vision for global economic governance, economic integration, global trade, and regional and global development.
This cannot be viewed as anything less than a watershed moment for China as the world shifts from a unipolar system dominated by the U.S. to a more multi-polar system in which it will play a crucial role.
China, more than most countries, embraces economic globalization. Its middle class is one of globalization's biggest winners. From the Silk Road Economic Belt and the 21st-Century Maritime Silk Road (Belt and Road Initiative) to the Asian Infrastructure Investment Bank (AIIB), China-Pakistan Economic Corridor (CPEC), Forum on China-Africa Cooperation (FOCAC) and the proposed Free Trade Area of the Asia-Pacific (FTAAP) initiative, China has shown a great willingness to fill the political and economic vacuum in global leadership President Trump seems to be abandoning.
Unlike the United States, anti-globalization forces in China have not caught on with the general public. Rather, China's voice has become crucial in developing new patterns of global economic governance and the international order. That said, as an emerging power, in order to exert influence China realizes that it must bear its share of global economic governance responsibility.
That responsibility has been spelled out in policy proposals before the "two sessions." Additionally, China has demonstrated a desire to enhance its role in the construction of a newly emerging global economic governance system, desiring a win-win outcome for the world not by upsetting the global order, but by improving and reconstructing it.
Contrast that with Trump, who has called for higher tariffs on Chinese imports, accused China of currency manipulation, and has created great uncertainty regarding China-U.S. relations.
Many Chinese policymakers and scholars rightly see the surge of populist nationalism in the West, particularly in the U.S., as a severe challenge to globalization. As Trump repudiates trade agreements and the U.S. retreats from promoting economic globalization, this gives China an opportunity to become a champion of free trade.
Given slowing global economic growth, China has taken the lead in presenting a clear case for the world to persevere in pursuing free trade rather than reverting to protectionism.
Premier Li Keqiang's Government Work Report to the NPC underscored a determination to deepening the supply-side reform that is related to China's vision for economic globalization, particularly the promotion of free trade and inclusive development that creates both opportunities and dividends in shared prosperity and demonstrating China's sense of purpose as a responsible world power.
Premier Li's Work Report echoed President Xi Jinping's January keynote speech at the World Economic Forum in Davos: China's strong support for globalization and its willingness to expand openness. Since its accession to the World Trade Organization (WTO) in 2001, free trade has had no greater supporter. Policies and laws created at the NPC session will serve to promote economic globalization with lasting impact on global economic governance.
This year's "two sessions" are the first since the election of Trump. They offer China an opportunity through both legislation and policy discussions to emphasize its role as a responsible global stakeholder - one that contributed over 33 percent of world economic growth in 2016.
Dr. Jon R. Taylor is a Professor of Political Science and Chair of the Department of Political Science at the University of St. Thomas in Houston.
Opinion articles reflect the views of their authors, not necessarily those of China.org.cn.