Economist: Property tax to stabilize housing prices, curb speculation
china.org.cn / chinagate.cn by Guo Yiming, March 4, 2017

Adjust font size: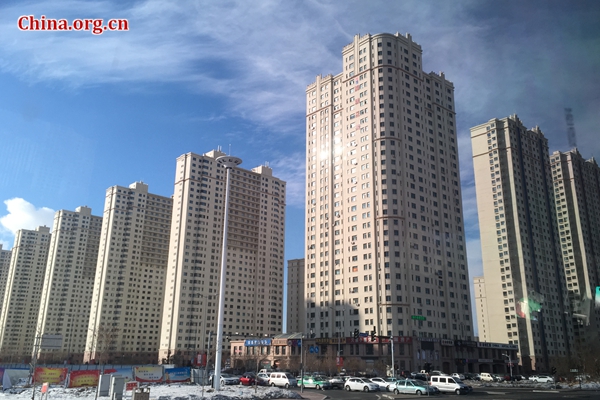 New residential buildings in northeastern China [Photo by Guo Yiming / China.org.cn]
China's property tax, which is still in the pipeline, will have a modest impact on China's runaway housing prices in big cities by preventing major speculations, an economist told China.org.cn on March 1.
"When implemented, the property tax will help stabilize housing prices and keep unbridled speculations at bay," said Jia Kang, a tax expert and member of the Chinese People's Political Consultative Conference (CPPCC), the country's top political advisory body.
The world's second largest economy is seeking to maintain stability in the property market after the roller coaster ride of 2016, with measures including higher mortgage down payments and greater home purchase restrictions, to prevent surges in metropolises and the growing inventories in smaller cities.
"Houses are built to be lived in, not for speculation," Chinese President Xi Jinping said at a meeting of the Central Leading Group on Finance and Economic Affairs on Feb. 28.
Prices of new homes in China surged 12.4 percent last year, the fastest rate since 2011, leading more than 20 cities to introduce property restrictions to cool the market since October.
Xi called for a long-term mechanism to ensure market stability, with improved policies to stabilize home buying, guide market expectations and enhance land supply systems.
With relatively low costs to hold properties, many investors tend to purchase multiple houses and keep them off the market in hopes of further appreciation, which drives up housing prices in major cities wrestling with tight supply.