'Logan' China's 1st parental advisory-tagged film ever
china.org.cn / chinagate.cn by Zhang Rui, March 3, 2017

Adjust font size:

The new X-Men film "Logan" not only was cut short by censors for its violence, but also became the first film screened in China with a parental advisory.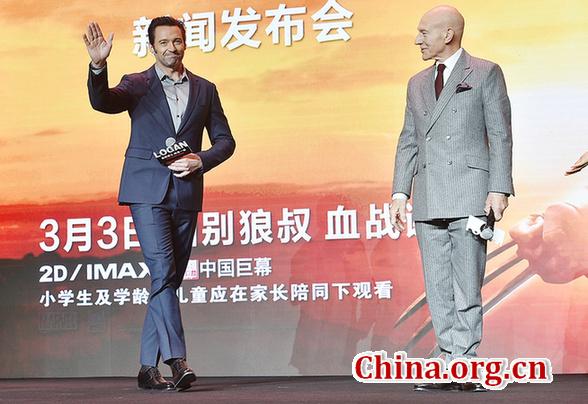 Actors Hugh Jackman and Patrick Stuart bid farewell to fans at China's premiere of new X-Men film "Logan" in Beijing on March 1, 2017. [Photo / China.org.cn]
"Logan" had its China premiere in Beijing on Wednesday, the same day that China's first film law took effect. The Film Industry Promotion Law of the People's Republic of China stipulates that films that have "physically and mentally uncomfortable" contents for underage audiences should have clear reminders for parents.
Since China doesn't have a film rating system, the article in the new law is seen as serving as the initial step for future rating systems to prevent children from being badly influenced in theaters. In past decades, various reports revealed that many careless parents took children to violent films that scared children.
At the premiere of "Logan" yesterday, there was a poster that read "Pupils and preschool children should watch it in the company of parents."
Online ticketing platforms and box offices across the country will soon implement the demands of the new law.
Critally applauded "Logan" was rated R in the United States for strong brutal violence and language throughout as well as brief nudity. The Chinese version's running time was about 14 minutes shorter than the U.S. version, due to the deletions required by China's film censors.
The 20th Century Fox-produced Marvel superhero flick, directed by James Mangold and starring Hugh Jackman, Patrick Stuart and Dafne Keen, centers on an aging, isolated and despondent Logan, also known as Wolverine, and his last journey with Professor X as well as his clone-daughter Laura Kinney, known as X-23. It is the last installment of the X-Men spin-off franchise of Wolverine.
Hugh Jackman and Patrick Stuart appeared on stage to meet cheering fans on Wednesday at Beijing's 798 Art Zone.
"It is an emotional time for Patrick and I. This is our last film playing characters of Logan the Wolverine and Professor Xavier, and I'm very proud of the film," Jackman said, adding the film is for the fans and people who may never have seen the film series.
The premiere became an emotional farewell gathering for fans and actors. Jackman went on to reveal he once grabbed Stuart's hand and cried together after seeing the film in Berlin before the two walked down the stage to sign autographes and take selfies for fans.
"Logan" will open in China on March 3, 2017.