Industrial Development Models to Lift SW China Counties Out of Poverty
GPIG by Cheng Yahui, March 1, 2017

Adjust font size:

Four counties in Dali Bai Autonomous Prefecture in southwest China's Yunnan Province will soon be free of poverty, thanks to their successful rural industrial development models.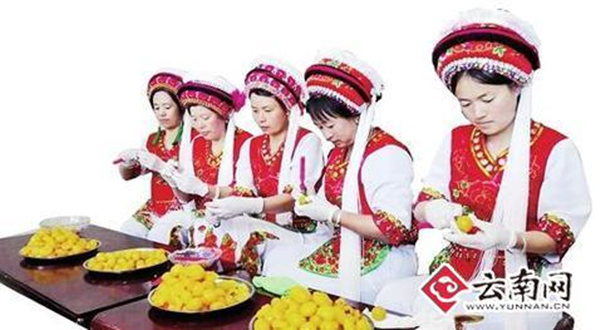 Women workers at Yunnan Dali Erbao Foods Co., Ltd. [yunnan.cn]
Over the course of 2016, each of the counties of Weishan, Eryuan, Binchuan and Xiangyun implemented their respective poverty-relief strategies, which basically bring into play local Party branches, leading businesses, and the anti-poverty funds received by households.
Model 1: 'Local Party Branch + Leading Enterprises + Poor Households'
From the end of 2015, authorities in Weishan County began to initiate a model of engaging local Party branches and impoverished households, along with a "third party" which could be a leading business, a cooperative, a relevant department, or some other organ or individual with experience of playing a leading role in poverty reduction.
Against this backdrop, the village Party branches of Miaojie Township got together to set up a cooperative. Villagers can choose whether or not to buy into the organization with the 50,000 yuan (U.S. $7,284) they receive in aid. Subsequently, Party leaders will select and invest in reliable and promising companies with the pooled money.
One of the chosen enterprises, Dali Shidai Agricultural Science and Technology, is contracted to provide each participating household with an annual dividend of 10 percent of their investment over a span of five years.
On June 16, 2016, the corporation paid the first dividends to 100 household investors – a total of 500,000 yuan (U.S. $72,840). Company representative Zuo Jilong reveals that in addition to the cash dividend, rural stakeholders can also enjoy returns on their rights to contracted farmland, while there are stable incomes for those who work in the company. The average annual income of the local residents exceeds 20,000 yuan (U.S. $2,914) from these three sources.
While helping the villagers eliminate poverty, Dali Shidai itself also benefits from the cooperation. With the 5 million yuan (U.S. $728,400) investment from the rural cooperative, it has expanded its vineyard by 300 mu (49 acres), planting a new variety of grape to be harvested on days alternating with the traditional peak season. "The wholesale price can reach as high as 25 yuan (U.S. $3.60) per kilogram," said Zuo.
Xie Youli, a 65-year-old who previously made a living from the soil to support his sick son and his daughter-in-law, has been working as a seasonal laborer at the vineyard, earning 80 yuan (U.S. $11.7) a day. With the addition of the annual dividend and the payment for his farmland from the company, he has a yearly income of more than 10,000 yuan (U.S. $1457). "My son says he has never seen so much money before," says Xie.
"The Party branch performs the role of 'matchmaker'," quips Luo Baoling, Party chief of Miaojie Township. "But it does not interfere with the process; both the enterprises and farmers can make their own choices."
To date, this poverty-relief model has attracted 48,623 households in Dali to take part in local rural industrial development.