International implications of Italian president's China visit
china.org.cn / chinagate.cn by Elenoire Laudieri Di Biase, March 1, 2017

Adjust font size: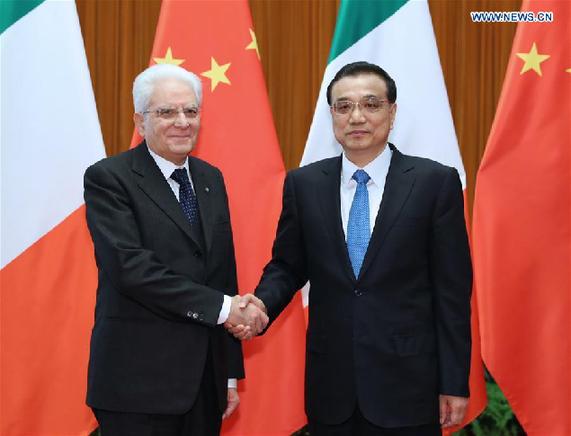 Chinese Premier Li Keqiang (R) meets with Italian President Sergio Mattarella in Beijing, capital of China, Feb. 23, 2017. (Xinhua/Xie Huanchi)
Italy's President Sergio Mattarella's five-day visit to China has considerably strengthened bilateral cooperation, adding another building block to the comprehensive and far-reaching international strategy adopted by China under the leadership of President Xi Jinping.
Over the past three years, China has been relentlessly implementing a new model of global relations based on win-win cooperation and peaceful co-existence with all countries without interference in their social, economic and political systems and respecting their cultural traditions.
This is a vision that clearly reflects the UN Charter and is now laying a solid foundation for sustained, steady and sound development of China's international relations.
China and Italy were already enjoying solid rapport assiduously nourished by the Italian Embassy in Beijing, and the signing of 13 recent cooperation agreements in culture, science, education, health, trade and innovation contributes to further expanding bilateral relations.
Yet the significance of President Mattarella's visit goes beyond a strategic partnership between the two countries in dealing with uncertainties arising from political instability in the European Union, and the fissures opening in the global order by the nationalistic agenda nominally espoused by newly-elected U.S. President Donald Trump.
Despite the knotty political repercussions that followed the failure of its referendum on constitutional reform last December, Italy has a stable government and will soon host celebrations to mark the 60th anniversary of the signing of the Treaty of Rome that effectively gave birth to the European Union.
The event is expected to breathe new life into the European integration process that risks being marred by a growing disaffection among some European citizens (e.g. Brexit).
As President Xi said, after meeting President Mattarella, "China supports European integration and hopes both sides can foster China-Europe partnerships that feature peace, growth, reform and civilization, and build a peaceful, open, inclusive and prosperous world."
The Italian government shares and intends to assert these objectives at the European plenary forum to be held in Rome at the end of March.
Italy has also an important role to play at global level as a recently-appointed temporary member of the U.N. Security Council, and will soon be at the center of the international agenda as host of the next G7 summit at the end of May.
The summit offers President Xi and President Trump their first opportunity to meet and this possibility certainly entered the discussions between the Chinese and Italian leaders.
Italy cannot get involved in promoting the bilateral meetings that will take place during the G7; however, as a major U.S. ally, it can hopefully influence a constructive approach by the new U.S. president.
Elenoire Laudieri Di Biase, sinologist from the university of Ca' Foscari and Melbourne University, Australia, is an expert on international diplomacy who acts as a senior analyst on China to the Nato Defense College Foundation.
Opinion articles reflect the views of their authors, not necessarily those of China.org.cn.