Hard to find wives, bachelors from rural Gansu
china.org.cn / chinagate.cn by Wu Jin, February 23, 2017

Adjust font size: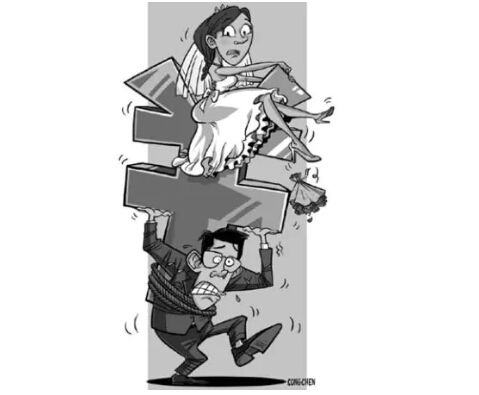 The price of marriage can be a burden for rural Chinese men [Song Chen/China Daily]
The hustling bazaar in Jiaocun Town, Qingyang City, Gansu Province, closed a day ahead of Chinese Lunar New Year's eve which fell on Jan. 27, this year.
In front of a primary school in the town, Lyu Feifei, a 24-year-old man was dismayed to be informed that he needs to wait for another chance to have a blind date.
However, Lyu knew only too well that those words from the matchmakers have indeed declared that his attempts to date a girl were made in vain for the seventh straight year in a row. After the weeklong vacation ended, he returned to his dorm in Shanghai's rural Jinshan District where he works as a chef in a noodle restaurant, from day to night with only two days off every month.
"I tried to date girls seven or eight times, but all failed. It makes me feel so frustrated," Lyu said.
In rural areas like Jiaocun Town, the disproportionate gender ratio resulting from the discrimination against having daughters has created difficulties for male adults to find wives. The young women in town enjoy great advantages when choosing spouses. During the last few years, there are less young women making appearances at the blind date market as most of them will stay at home waiting for the matchmakers to introduce the young men one after another.
However, the romance of blind dating is majorly devalued as the general priority of the young women's marriage is not for love but for engagement gifts, which usually cost around 170,000 (US$24,766) to 180,000 yuan.
"How can I pretend not to be regretful?" Lyu sighed. Six years ago, the chef, 5 foot 7 tall and younger, received much attention among girls who expected to marry him.The betrothal gift at that time was no more than 80,000 yuan.
Lyu refused all the girls who were fond of him in the hope that he still had time to seek a prettier one. But now, even girls with plain looks reject his pursuits.
The engagement gift at around 150,000 yuan last year has grown by more than 20,000 yuan this year, equaling a year's saving for Lyu. "It seemed that my labor throughout the entire year is paying for the demand of my future mother-in-law," Lyu derided.
Lyu is not alone. Villager Yang Ruiqing, who is the third son in his family, remains single at the age of 42. He could still remember when the engagement gifts were priced at 3,000 yuan for each of his elder brothers, draining the family savings 17 years ago. Until his second brother married, Yang had been not allowed to date girls. However, 17 years on, his savings have never caught up with the surging engagement costs. Even a divorced woman with a child asks for no less than 200,000 yuan.
In decades of migrant life, Yang has saved a fortune of 150,000 yuan. Having been defeated several times in finding himself a wife, Yang, instead, spent the wealth on building a house in his home village, getting ready for a lonely life in his senile age. But he, who is still longing for marriage, still visited matchmakers this year when he was introduced to two women, both of whom, however, left no responses to him. When he set out again to his migrant destination after the vacation, he was still single.
Lyu's single status agonizes his family as Lyu also has a younger brother reaching marriageable age. However, in China's rural conventions, the younger child should only get married when the elder siblings have completed their weddings. Lyu's family this year resolves to help Lyu get married even if it makes them become considerably in debt to pay for the engagement gift.
"I'll return to my hometown at the 11th month of the Lunar Calendar when the next Spring Festival is coming," Lyu said. "I'll spend one or two months on blind dates and keep dating until I get married."