Nepal's lukewarm tourism hopes to attract more Chinese
china.org.cn / chinagate.cn by Zhang Lulu, December 23, 2016

Adjust font size: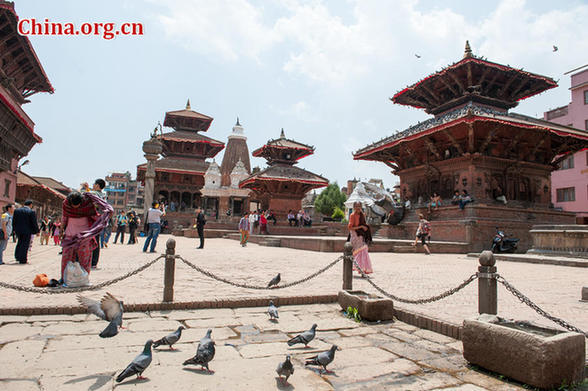 Patan Durbar Square at Kathmandu, capital of Nepal. [File photo by Chen Boyuan/China.org.cn]
The Embassy of Nepal in China is keen on finding ways to promote tourism in China as the number of Chinese tourists to Nepal continues to decline.
As of the end of November, the number of Chinese tourists to the landlocked, neighboring country in 2016 was 53,551, almost the same as last year (53,441), while a total of 128,707 Chinese – more than twice of the recent two years – went to Nepal in 2014.
Leela Mani Paudyal, the ambassador of Nepal to China, attributed part of the reason to the massive earthquake in the country in 2015 and the blockade imposed by India in Nepal in September last year, which he believed took a toll on the flow of tourists to the country.
The newly appointed ambassador is keen on finding ways to attract more Chinese tourists to his country, as he announced to a group of Chinese journalists in Beijing on Wednesday.
The ambassador sought advice from Chinese media professionals on how to attract more tourists while also reassuring them that the post-quake Nepal is safe and convenient for travel.
Located between China and India, Nepal is home to rich tourism resources, including a number of breathtaking mountains –the world's highest, Mount Everest, which lies between Nepal and China – and unique Buddhist culture, as it is believed to be the birthplace of the Buddha.
Currently direct flights are available from China to Nepal, from Chengdu, Kunming, Lhasa and Guangzhou, according to the ambassador. Nepal announced the exemption of visa fees for Chinese tourists this year in order to expand its Chinese tourism market.