The potential of big data to measure poverty in China: UNDP report
chinagate.cn by Lindsay Liu, October 18, 2016

Adjust font size: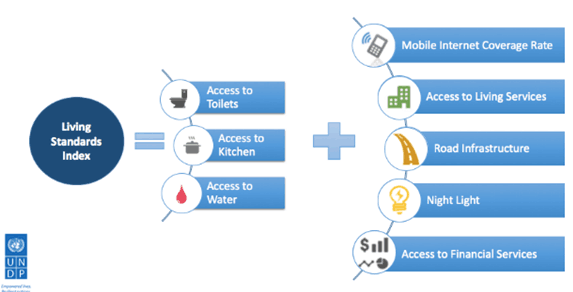 Marking the International Day for the Eradication of Poverty and China's 3rd National Poverty Day, the United Nations Development Programme (UNDP) China launched a new report named The Living Standards Dimension of the Human Development Index: Measuring Poverty with Big Data in China on October 17.
With the publication of this report, UNDP shared its perspectives on the potential of Big Data to be a powerful complementary tool to measure poverty in China and helped to provide detailed information for governments, social organizations and the private sectors to better allocate resources to poverty alleviation and the measurement of progress thereof.
"To achieve the 17 SDGs we should take quick and decisive action to leave no one behind, but at the same, we need to constantly measure progress to adjust where needed and to learn from our achievements and mistakes. This is where big data can help," said Patrick Haverman, Deputy Country Director of UNDP China. "It can complement the already existing data and together inform policymakers and the public about the progress. We call for inputs from all sectors to explore promising ways to strengthen big data's application and together we can use the data to contribute to making the world a better place," he added.
Partnering with Baidu to provide big data, the report brings a measure called the Living Standard Dimension of the Human Development Index that addresses the multi-faceted and complex nature of poverty by combining eight indicators to evaluate the provision of services of the 2,284 counties across the country.The eight indicators include access to piped water, access to sanitary toilets, access to indoor kitchens, access to living services, access to financial services, access to roads, mobile internet coverage, and nighttime light density.
By measuring the eight indicators, the Living Standards Index reflects that the government's existing poverty alleviation policies are well formulated. By comparing the bottom 832 Living standards Index poor counties with 832 National Poor Counties as defined by the Chinesegovernment, the report points out that the overlapping rate is 63% that means 63% of National Poor Counties are classed as Living Standards Index poor as well.
The findings also suggest significant variation in living standards within poor regions, indicating that different programs should be developed to target the particular needs of each county.
These findings are in line with the existing data in terms of regional development gap, as western and rural counties have significantly lower living standards than eastern and coastal areas. The 100 counties with least access to living services are quite concentrated in nine provinces in western China.
In the center of China, deficiencies in living conditions are more varied. For example, in Hubei and Jiangxi, mobile coverage is a notable issue. However, nearby Henan and Shaanxi provinces face challenges in access to water.Even in the provinces with the highest levels of living standards, there remains a need to understand potential sources of poverty, making sure to take into account poor counties in otherwise developed provinces.