CPC in Dialogue with the World wraps up with consensus
china.org.cn / chinagate.cn by Chen Boyuan, October 17, 2016

Adjust font size:

The annual CPC in Dialogue with the World concluded on Oct. 15 in southwest China's Chongqing Municipality with the Chongqing Initiative agreed upon by more than 300 politicians, scholars, and businesspeople from over 50 countries.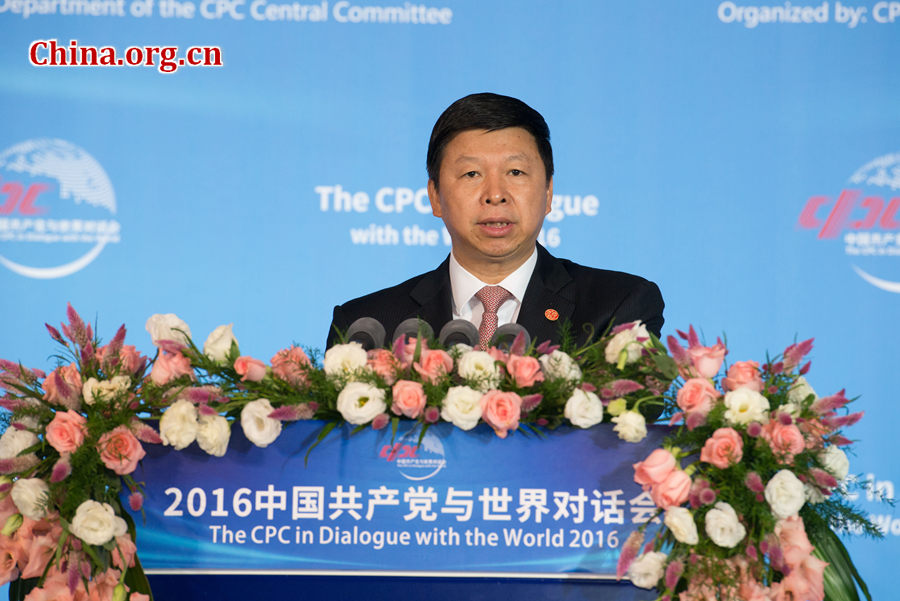 Song Tao, minister of the International Department of the CPC Central Committee (IDCPC), delivers a speech at the closing ceremony of the CPC in Dialogue with the World 2016 held in southwest China's Chongqing Municipality on Oct. 15, 2016. [Photo by Chen Boyuan / China.org.cn]
This year's CPC world dialogue focused on how political parties could play a more active role in global economic governance, a topic that was also discussed at the G20 Hangzhou summit in September.
At the summit, Chinese President Xi Jinping urged all G20 members to "build a partnership in energy cooperation, nurture a free and open global energy market with orderly competition and efficient supervision, jointly maintain stability of energy prices, improve energy efficiency and formulate and improve global energy governance principles."
At the closing ceremony, Song Tao, minister of the International Department of the CPC Central Committee (IDCPC), the organizer of the event, said in his speech that economic globalization has already made the entire world a community with a shared future.
"To innovate global economic governance, all countries should enhance their self-awareness of the idea of a shared future, uphold the partnership that seeks win-win results from cooperation and integrate knowledge into actions," said Song.
Dominique de Villepin, a former French prime minister, was among the international political leaders invited to the forum. He hailed the CPC's role in achieving development in China while having Chinese people understand where the country is heading and what the country's objectives are.
"When you want to have strong actions, you need to have understanding, dialogue and decision. It's a huge process, and I think the CPC is aware of these needs," said De Villepin, commenting on how the CPC's international dialogue mechanism brings it closer to political parties from other countries.
Ignatius Chombo, Secretary of Administration for the Zimbabwe African National Union – Patriotic Front (Zanu PF) said it is "extremely important" for the CPC to hold such a forum, especially for smaller countries.
"Big country wants to behave big, and small countries also want to behave big although they are small. The best way is to communicate properly and honestly, and do so without fear or favor," said Chombo. "It brings political parties together so that they can share ideas and issues that needs to be resolved. In doing so, they aren't doing it in a warfare situation but in harmony."